Day 12
I set an alarm before bed last night as this morning we had our 'Welcome home breakfast' over at Top of the World Lounge. I dunno if I'm the only person who does this but if I know I have got something I have to be up for I don't sleep well as im constantly looking at the time, even if I set an alarm I do this and its super annoying! So yeah, I hadn't slept well and I was awake before the alarm went off, pfft.
We showered and got dressed before driving over to BLT, we had to show our invite (which was a huge thing themed with Ratatouille) at the gate and we were told where we had to go. We checked in downstairs and we were taken up in the lift and all the way to the door to the lounge.
Breakfast was good and plentiful! There was a LOT of food there for not that many people. We chatted to a few people in there and then we were shown an cheesy 2 min video with people enjoying themselves on holiday and new Disney shows. It was almost like they were selling DVC but the breakfast was only people who had bought in already so not sure what that was all about. It was worth the free breakfast though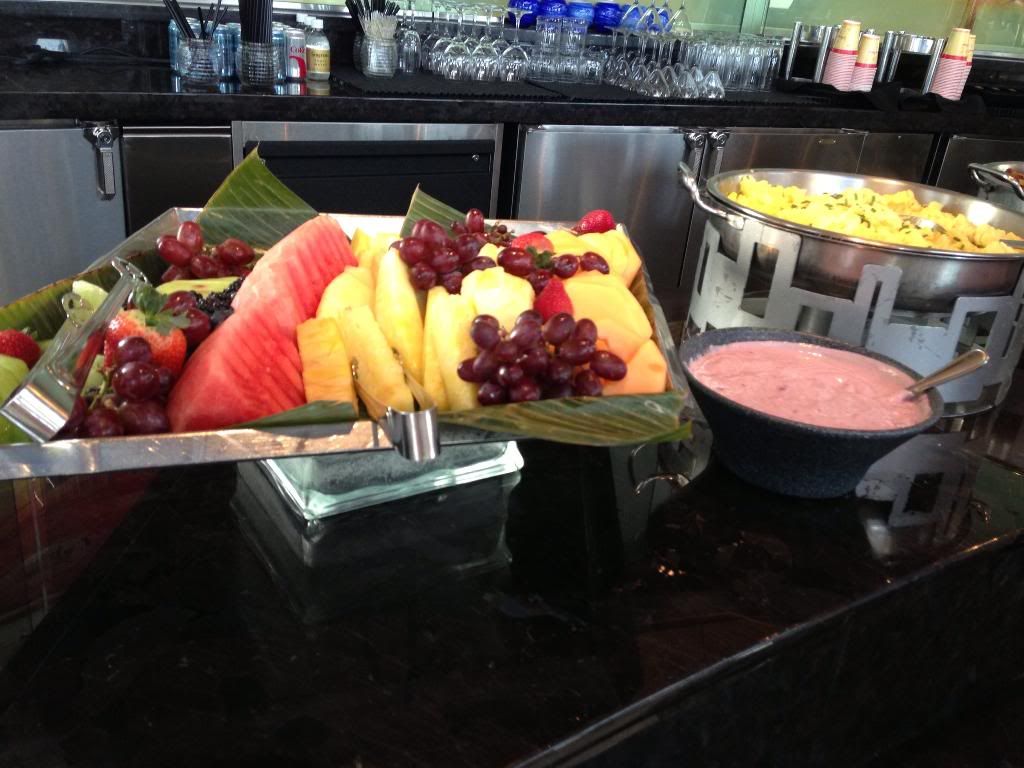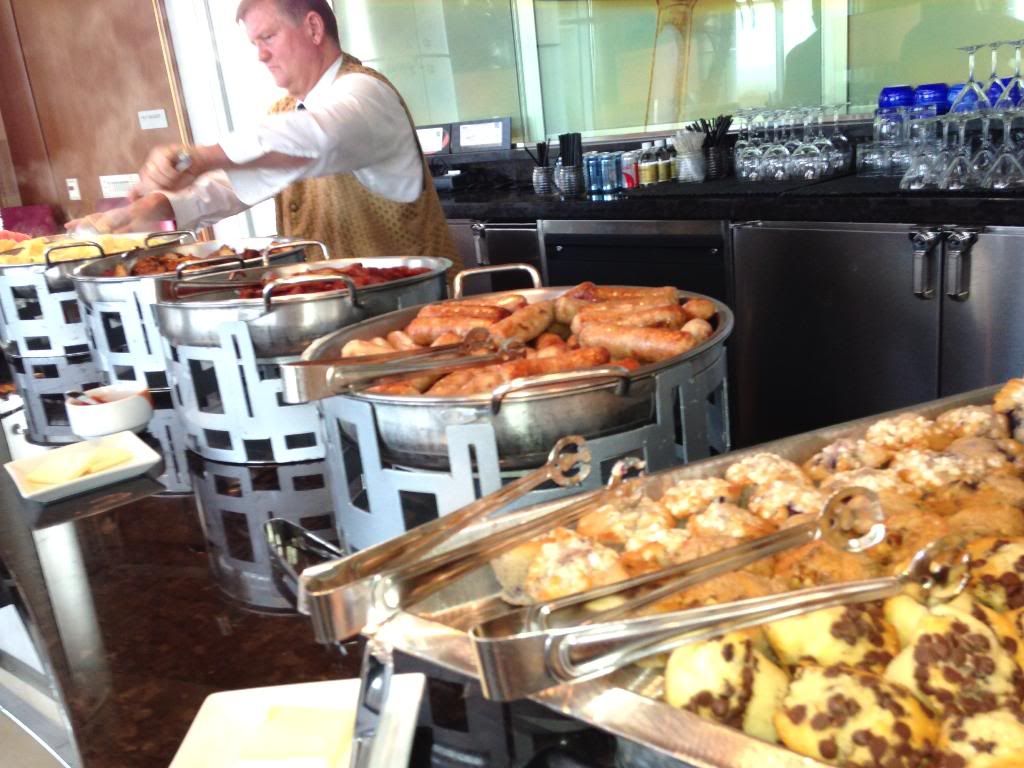 It was weird to get some daytime shots outside, as we have only been up here when its dark.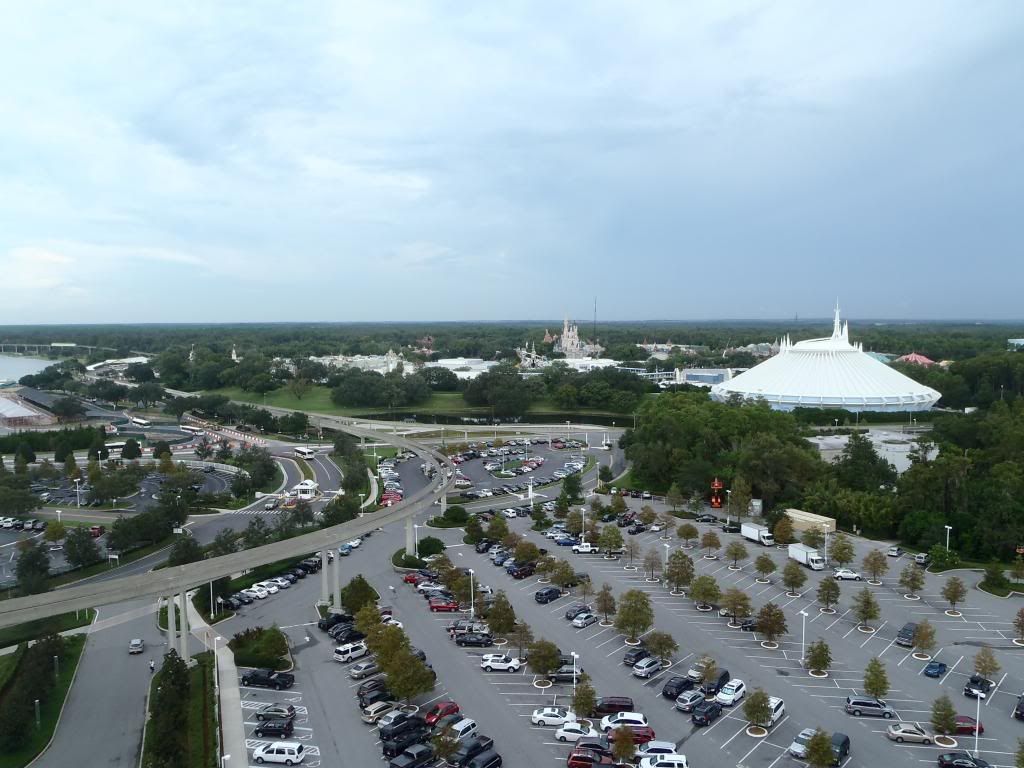 Once we were done we headed over to MK where it was MOBBED. It really was super busy, more so than we have ever experienced mid September. I had made some fastpasses for Character meet and greets, first up was Ariel. She was good but didn't quite live up to my expectations. Ariel is the ultimate Princess for me you see, I was at just the right age when the film came out, it was one of the first things I ever went to see in the cinema and I watched the video so much that it burnt out, Eric was my first love and to make it even better, she had red hair like me! (I was very red as a child). So really, she didn't stand a chance lol. I'm sure we will try again come October this year though.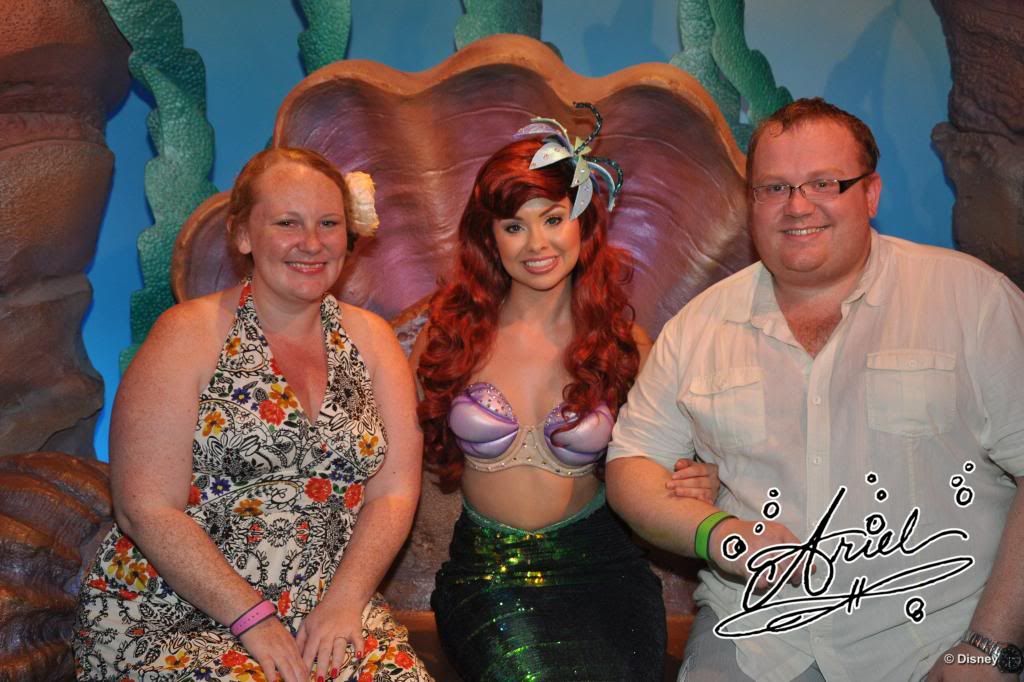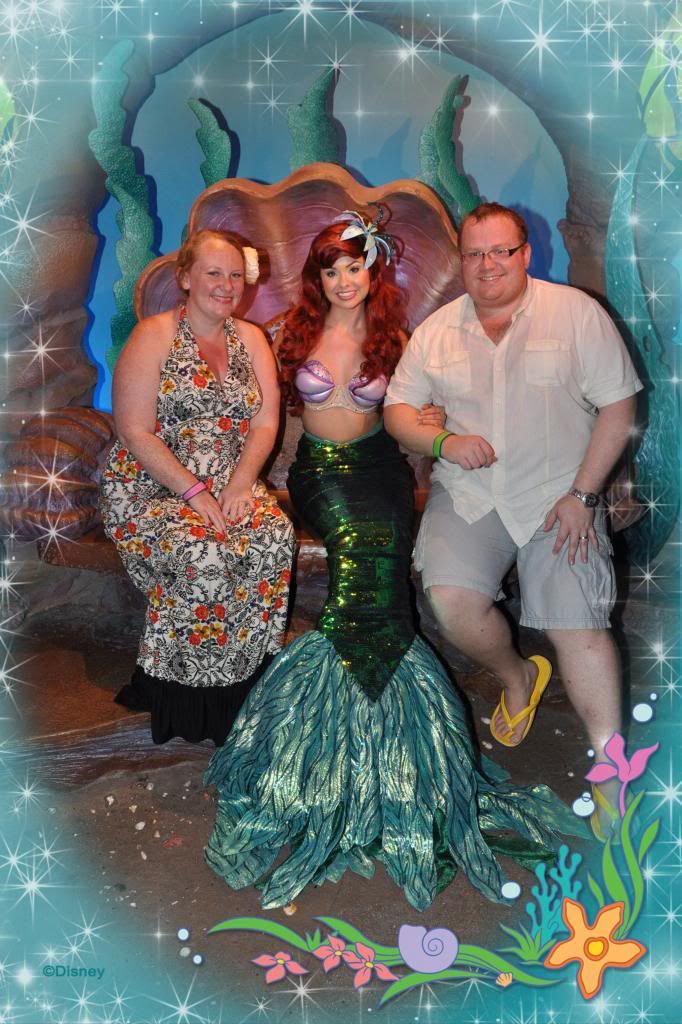 We then went to watch Philharmagic and pottered about in a few shops as it was so hot. We had a bit of time to kill before the next meet and greet in the area so we didn't want to go too far. We did catch a cute little show that I've not seen before, it was all to do with the sword in the stone. They had lots of different people trying to pull the sword from the stone until a little girl called Bella managed to pull it free. There was singing and jokes, it just summed up Disney for me. Catch it if you can
We still had more time before our meet and greet time so we decided to ride It's a Small World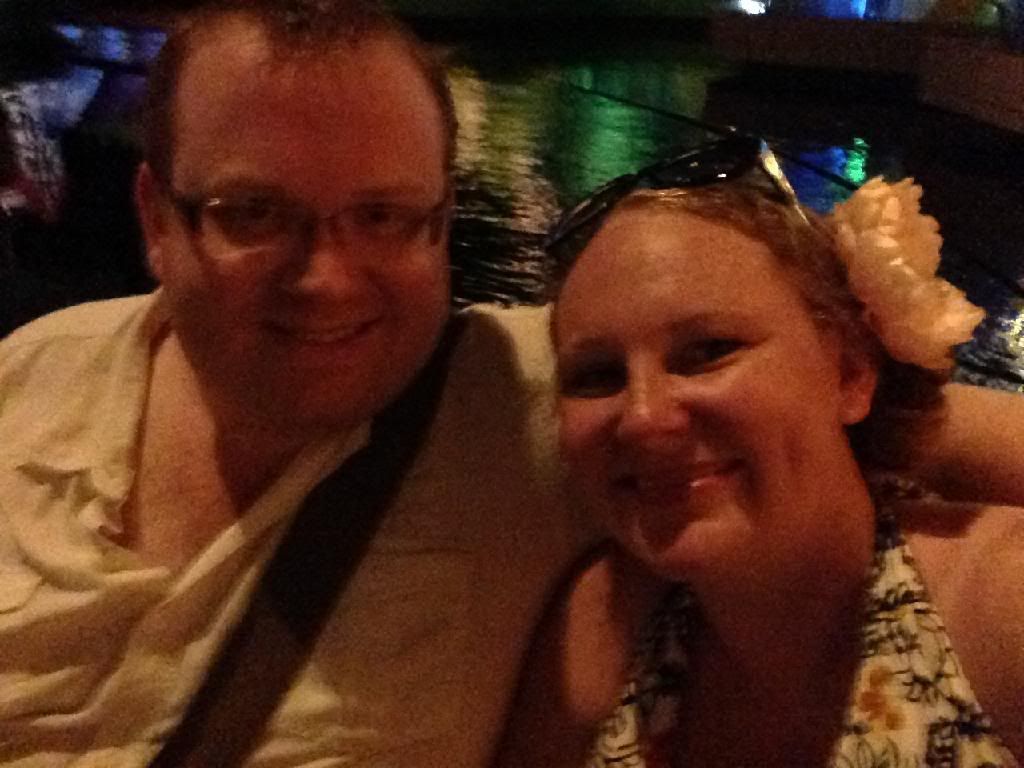 Soon it was time to meet Aurora and Cinderella. They were both good and admired my dress
Cinderella is another of my favs so I was very excited to meet her
Cinderella was so beautiful and I told her, she was genuinely touched.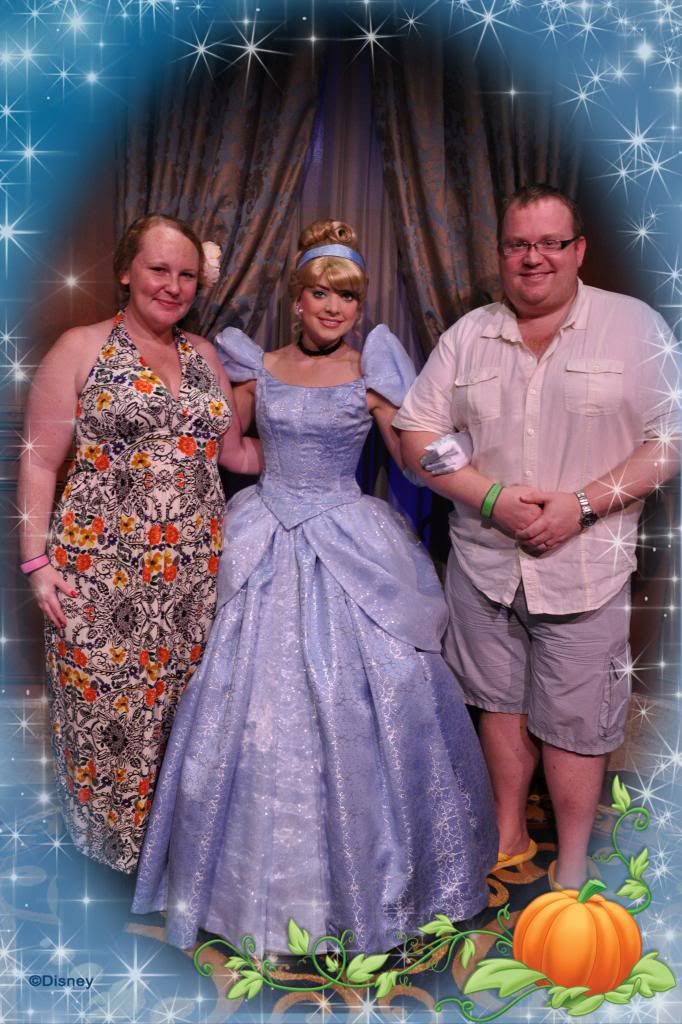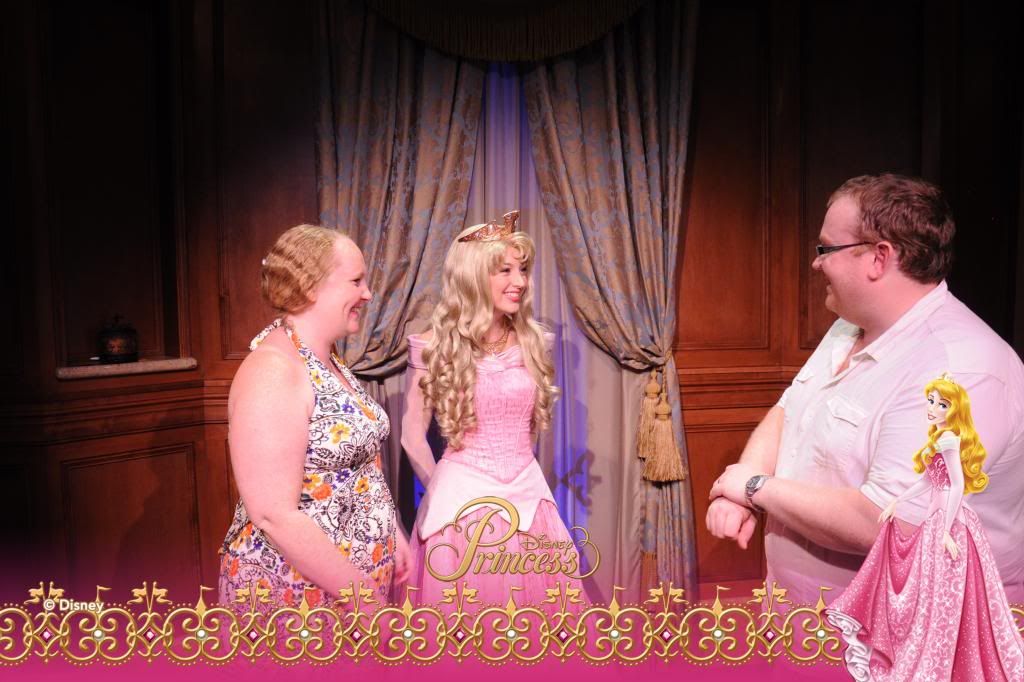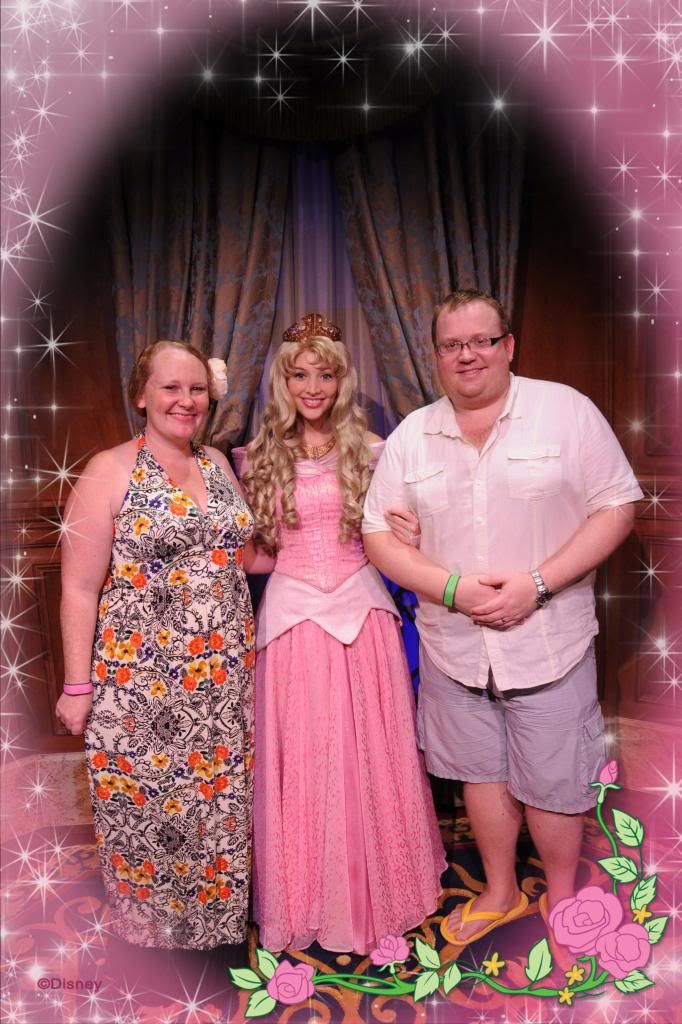 By now it was getting hotter and more humid by the minute, plus with the amount of people in the park I was feeling a bit overwhelmed so we decided to head back to the car, we stopped on the way to watch the Move it Shake it parade but it was cut short I think due to the impending rain, we walked behind the parade to the exit with Donald playing with me all the way back which made my day
As we were walking back to the car the heavens opened, we managed not to get too wet which was a miracle considering the size of the raindrops!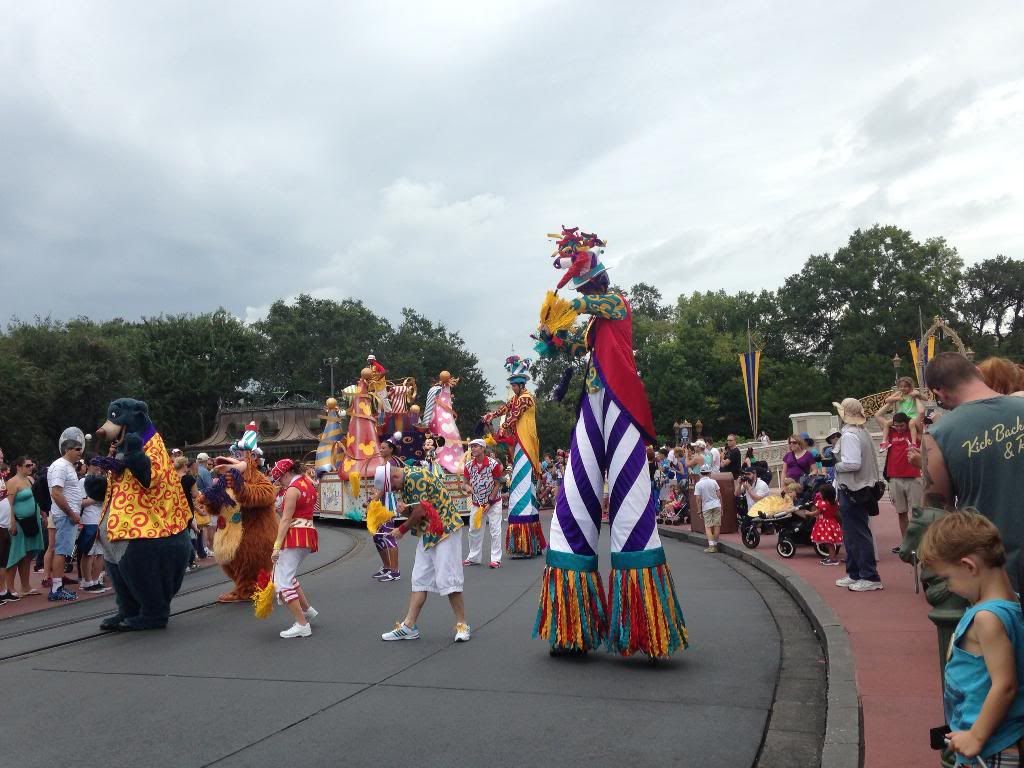 By now it was early afternoon and we were getting a bit peckish so we decided to have a drive around and see where we fancied to eat. A friend had recommended Fudruckers to us, she said it was nicer than Steak and Shake (not really too hard for me as I don't eat burgers lol) so we stopped at one in Lake Buena Vista. The rain was still coming down hard so we ran from the car inside. I am totally sold with Fud's, you order your food and pay for it before taking a number and grabbing a seat, when your food comes you go up to the toppings bar (makes Disney's toppings bar look rubbish) and go crazy. All different toppings and sauces! Plus the food was seriously yummy. I am putting it in the plan for next year
We weren't sure if we were supposed to tip in here as we had ordered the food ourselves and got our own drinks but then someone had brought the food to us... the table next to us didn't leave anything but I didn't want to do that in case it was wrong so we left a couple of $$ anyway. If anyone knows what we should have done please let me know
I'll know for next time that way, thank you!
The rain was still coming down hard when we had finished so Sy being the lovely hubby that he is went to get the car and drive right up to the curb to pick me up. The rain didn't look like it was going anywhere so we decided to head to Walmart to do a bit of shopping, we got a few things for Christmas presents. I think we spent about 2 hours in there! Sy doesn't mind shopping usually but even he was losing the will to live
When we headed outside it was STILL throwing it down
We had an ADR for Tokyo Dining for that evening but we decided that it had to go as we didn't want to get soaked heading there. Instead we decided to head over to Beaches and Cream for an ice cream
On the gate to the Yacht club we were asked why we were there and the guy scanned our magic bands and told us we couldn't park there for our Tokyo Dining reservation, we couldn't cancel it yet as we don't have Wifi out and about on our phones (well we could if we wanted very expensive bills when we got home), we did tell him that we were cancelling that cause of the rain and just heading to beaches and cream. I don't know if he believed us (I probably wouldn't have) but he let us in anyway...
We valet parked and headed to Beaches and Cream, we were pleasantly surprised to only have a 10 min wait! Get in! I took a picture of all the rain while we waited outside.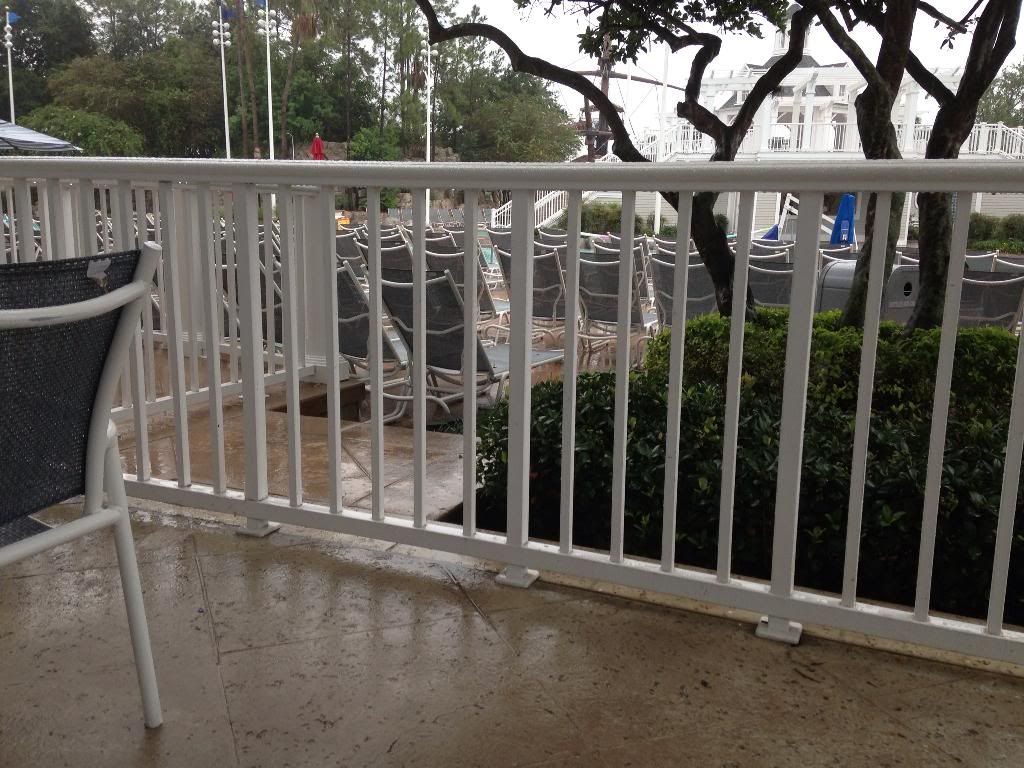 Not sure you can see the amount of rain there was from that picture though, there was a LOT.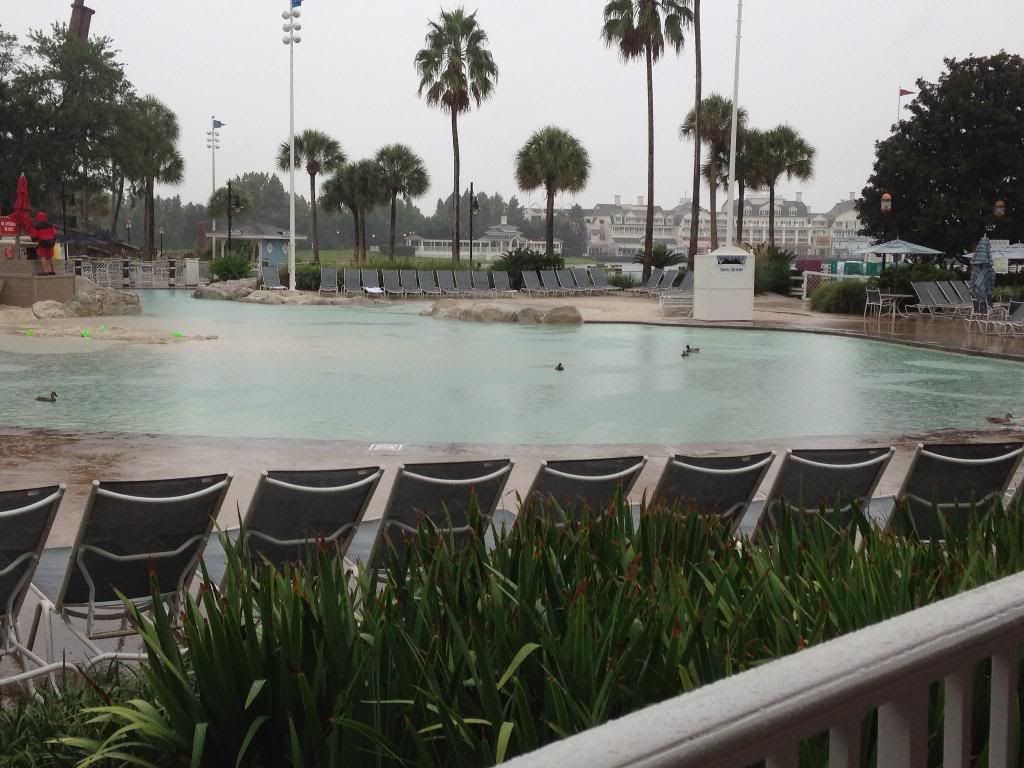 This one was slightly better, the ducks were having a great time
We were seated at the counter which was fab as we could watch them making all the different ice creams. We actually got talking to a girl behind there who was English and it turns out she was good friends with our friend James who works in Tony's.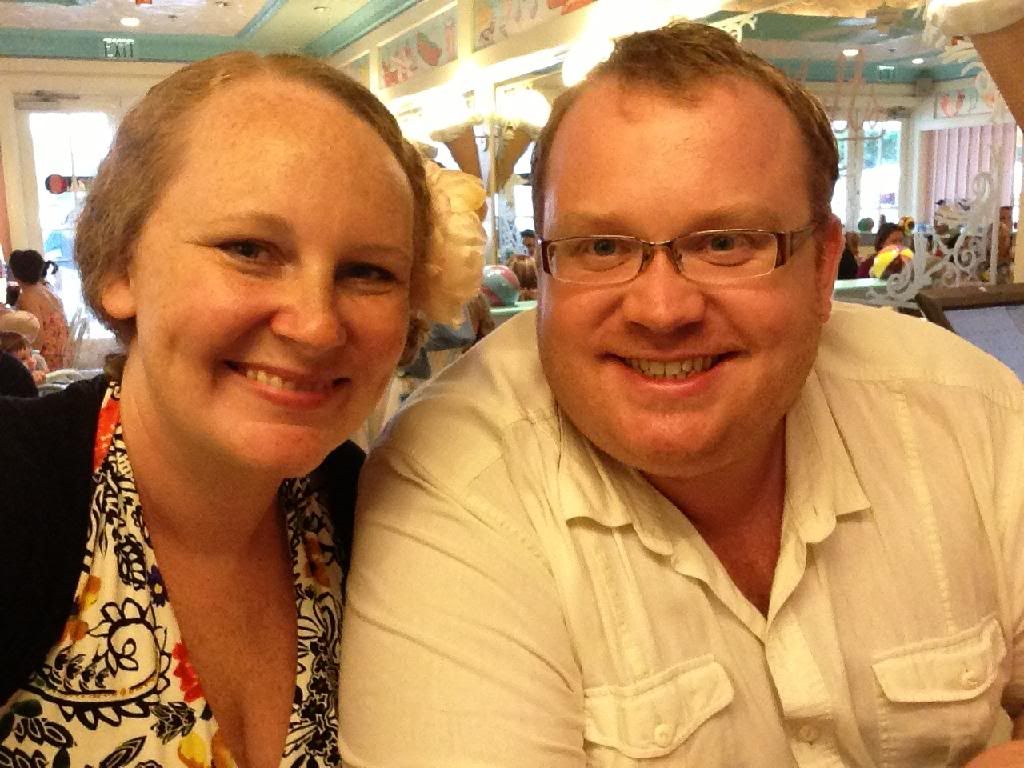 Sy had a Banana Split
I had a sundae with caramel sauce and whipped cream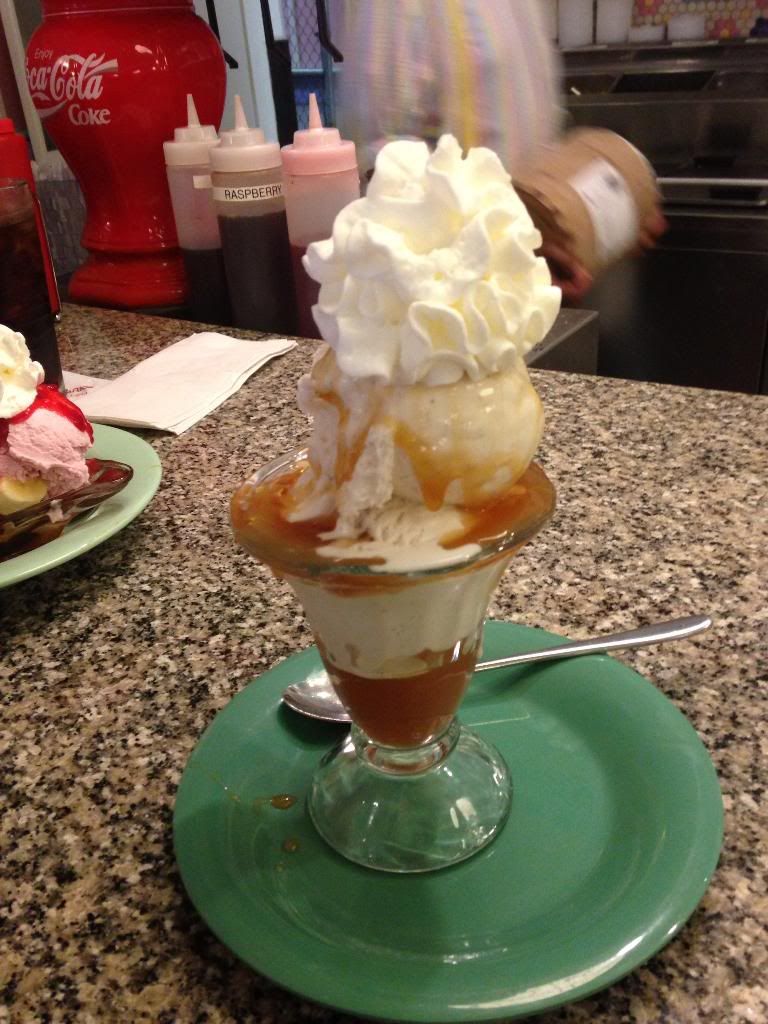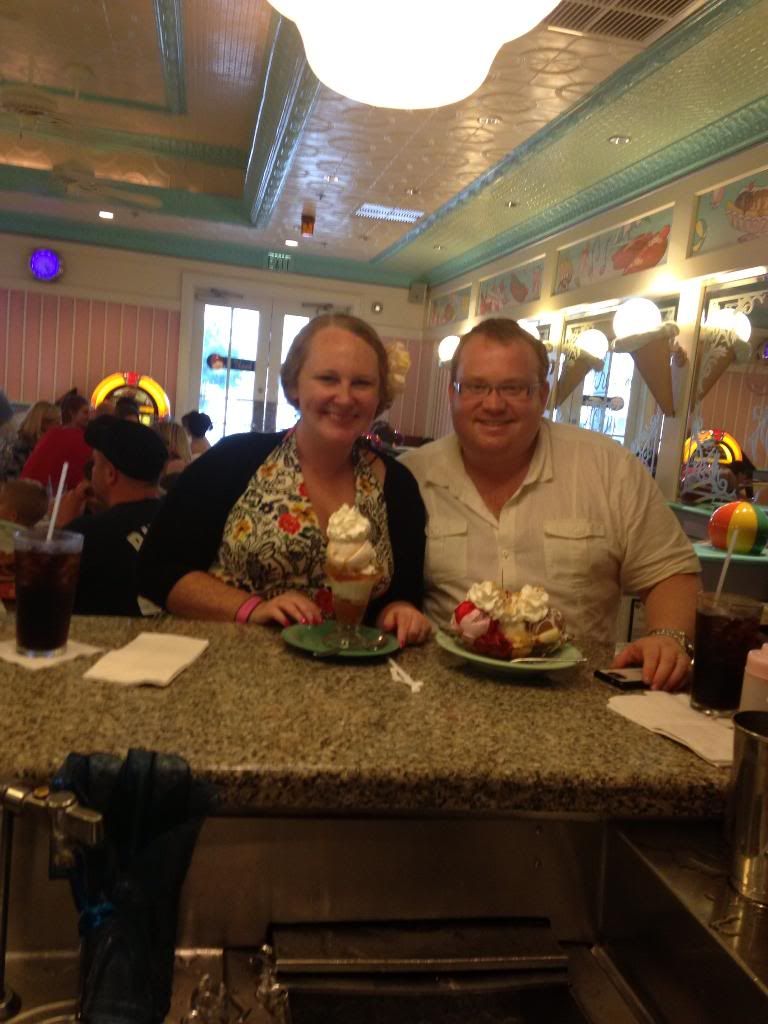 Sadly my ice cream got the better of me....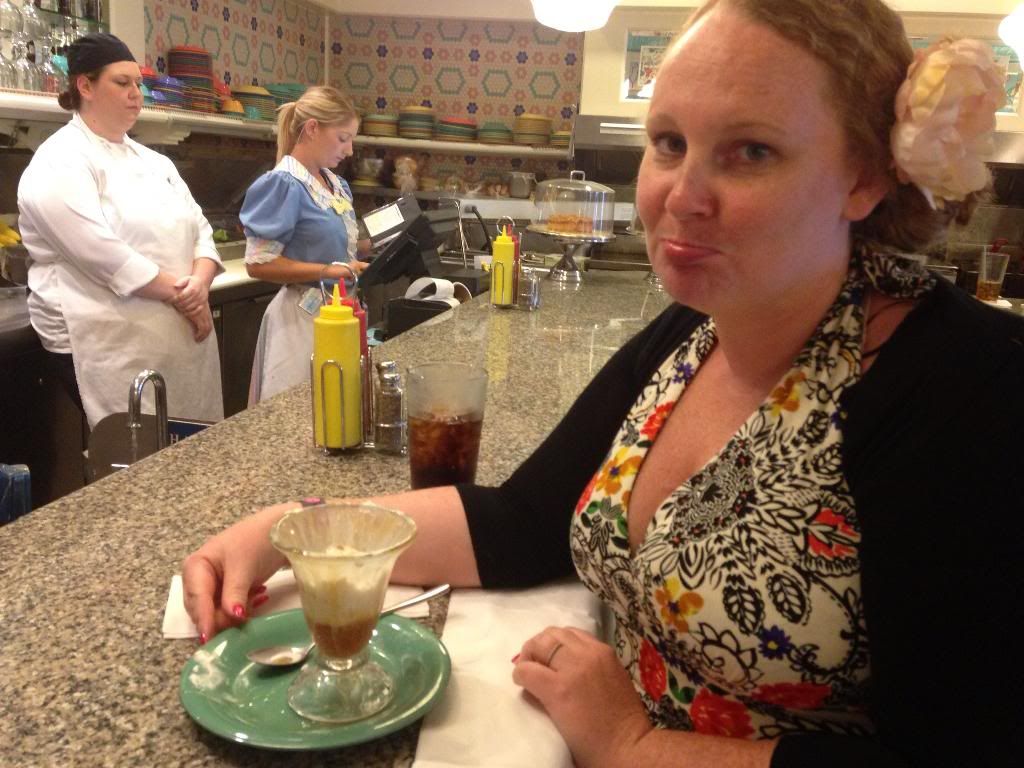 (the girl with the blonde hair is the one who is friends with our friend)
Someone ordered a kitchen sink while we were there so we got to watch it being made...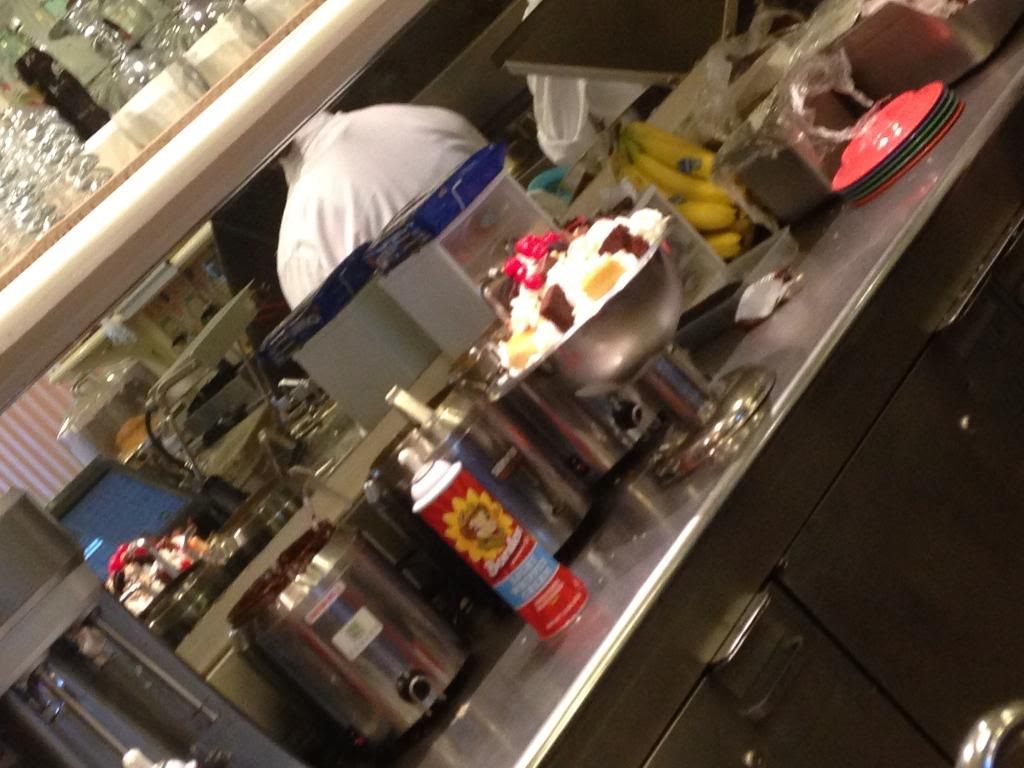 When we were done we picked up the car from valet and headed back to AKL. We had more washing that needed to be done so I made the most of being stuck in the hotel due to the rain.... sadly so did a few other people and I had a bit of a queue but it didn't matter. It was just a pain as we were so far from the washing machines but hey ho. It generally went, me put the washing on, me put the washing in the driers and Sy to go collect.
Once the washing was all done we headed back out to the outlets, a few days before we had been in to the swarovski shop and seen the matching necklace to a bracelet that I had been looking for but couldn't get, it was end of line in the UK and no one had any of them but there were a few at the shop in the outlets! Unfortunately when we went to buy it the shop had a problem with their card machine so the guy put it to one side for us to collect today instead. He was so lovely. When we got to the shop the girl on the desk told us that things cannot be held more than 24 hours, she refused to look to see if it was still there and went to pick one up from the shelf herself and rang it up. She was really snooty and I would bet money that she wanted the commission herself which is why she wouldn't get the one from out the back as it had the guy's name who had served us on it and his details. Had he told us it could only be held for 24 hours we would have come back sooner but he didn't... I dunno it just all sounded fishy to me. Had I not wanted the necklace really badly I would have left it just cause of her attitude but that's how it was and I really wanted the necklace lol.
We made another quick stop at the Clarins shop, I wanted to check the price of the things I used at home to compare if it was any cheaper, funnily some things were a lot cheaper and some were about the same. I bought a new face powder as it was cheaper and I needed it
We then made a hasty exit before I could spend anymore and headed to............... Downtown Disney! Woohoo! Sy's wallet really was getting a hitting today
We did yet more shopping at DTD, a few Christmas and birthday presents were bought before we decided that we needed something else to eat. All that spending works up an appetite don't ya know
So off we head into Wolfgang Puck Express.
Sy had the meatloaf sandwich and I had a pizza, I wasn't actually keen on it but there was nothing wrong with it, there was just something in the pizza sauce I didn't like the taste of. They must have changed the recipe since last time as I loved it last year. The base was perfect though so I'll probably still try it again next time.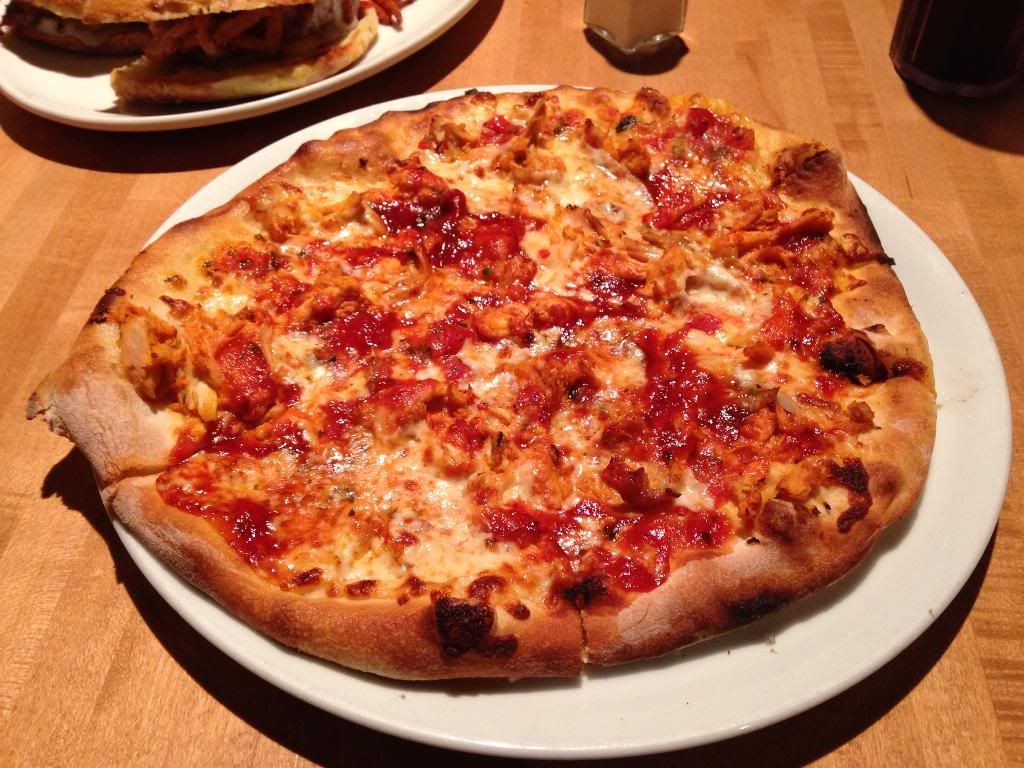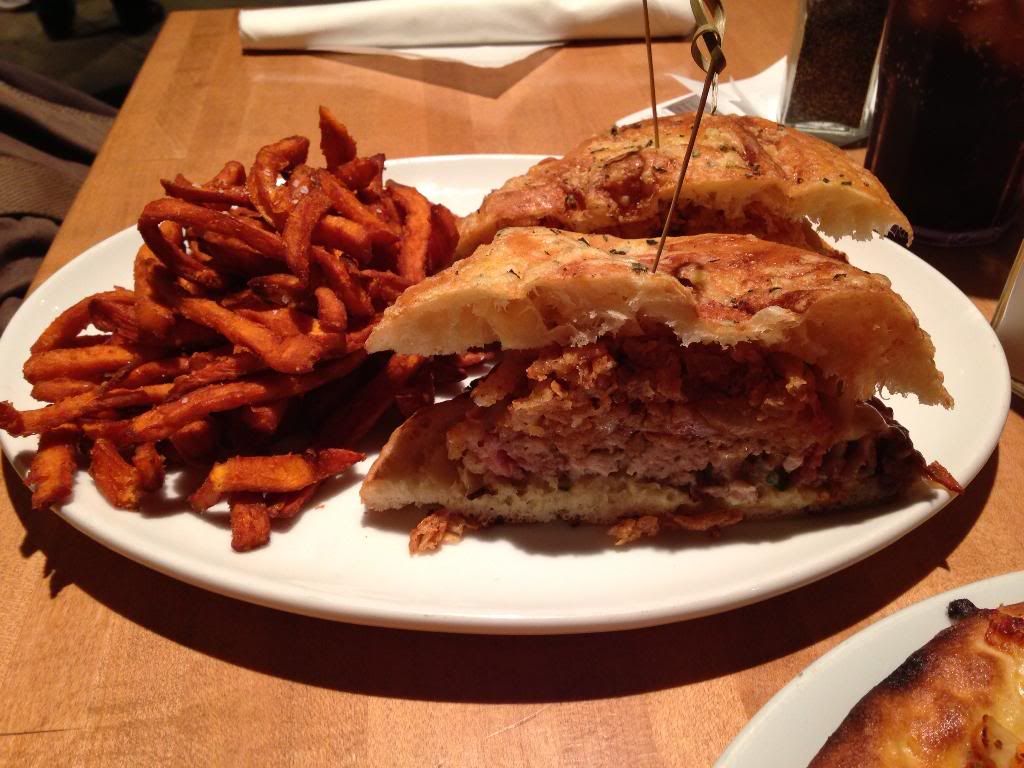 After eating we waddled back to the car and made our way back to the hotel. It was a long walk with all those shopping bags
we finally hit the hay at about midnight, it had been a long day!
__________________
Our Very Merry 24 nighter Nov/Dec 15
Watson's go West May 15
The one with all the birthdays Oct 14 4 Big Birthdays and a Vow Renewal thrown in
The OMG trip June 14 30th Birthday present from the hubs
Girly trip March 14 A last min cheapy week
September 13 our first all DVC stay
TR May 2013 the last min bargain trip offsite
Oct 2012 TR with a cruise!big family trip featuring the beach club, AKL, the dream and a villa offsite
TR on a budget May - June 2011offsite condo
TR Sept - Oct 2010 big family trip in an offsite villa