Hi! And welcome to another Pre Trip report! This trip has completely snuck up on us as we usually take our big trip in September however because auntie and uncle are huge green fingered fans and love literally anything to do with gardening, flowers, topiaries etc. when we visited on our spur of the moment trip in April last year we just knew my auntie and uncle had to visit at this wonderful time! This is the crew for this trip below, me Amy 27 Disney mad also known as "Disney girl" at work, Mam Susan slightly older Disney addict she tried to help when I let her! Aunty and Uncle both retired and share our love of this wonderful place!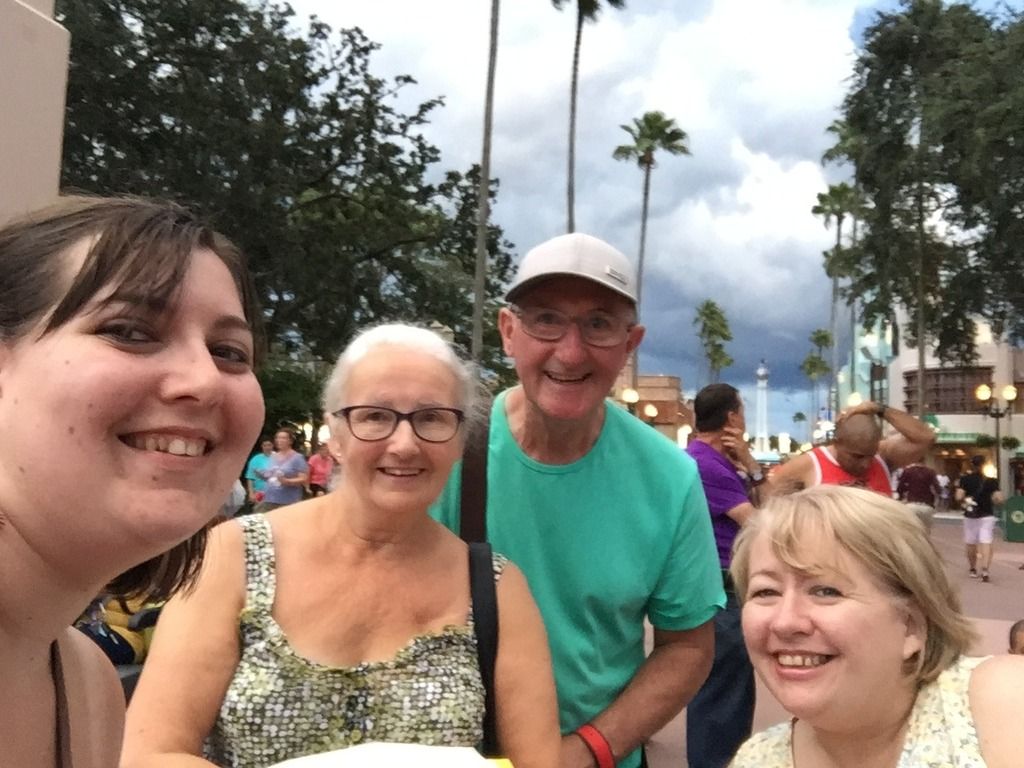 This trip is a totally different experience for me because it's a different time of year to plan the big trip and we also only get 14 days in the park as it was stupid crazy money to upgrade to 21 day tickets when all we would get out of it was 1 day so although we arrive on the Monday afternoon we won't set foot inside a Disney Park until Wednesday
I found this trip a lot easier to plan than the fall trips because I don't have to contend with Halloween party nights and avoiding EPCOT on a weekend but my heart does still pine for the fall (which is why me and mam are having a girly trip at the end of September!) when we visited for our whirlwind trip last April I felt so rushed as we only had 7 days and there was loads at flower and garden we never really got to see so I'm super excited I get to have another go and seeing all the pictures on Facebook just make me even more excited " can you tell I'm excited!
So onto the plans I go!
Sunday 23rd April
Travelling to Manchester Airport pretty boring day we do have a meal booked at the hotel we got like a package deal and we stayed here last April and it was just a great way to kick off our trip!
Monday 24th April
Travel to Disney Day! We have a really early start as our flight is 10.30am and we have to have breakfast, pack car up, drop off at car park then go check in! Probably a few pre drink flights before the long trip over the Atlantic! We are scheduled to arrive at 2.30 but if you have ever read one of my trip reports that NEVER happens! We will get Magical Express to Port Orleans Riverside which will be our home for 16nights! If once we get the room and we have any energy left in us we will head down to Disney Springs possibly pick up some food and get $200 gift card that we got with the booking (love the UK deals!) probably an early night because it will have been a looooooong day!
Tuesday 25th April
This is where we break from tradition usually our first park day is today with Magic Kingdom on the morning and EPCOT on the evening but due to the ticket prices this is a non-park day *SHOCK* so we are going to use this day to hire a car and visit the premium outlets for some bargains and a trip to Walmart! We might go to a resort this night or to Disney springs " so many food outlets to try and so little time!
Wednesday 26th April
First Park Day! This feels like a long time since I left home before I get to a park but the wait will be worth it! Again a change to tradition instead of starting with Magic Kingdom we are actually starting with EPCOT! We thought with the Flower and Garden festival on we wanted auntie and uncle to see this all first and in the daylight to really take it all in! we have FP for Soarin', The Seas with Nemo and Living with the Land, we will most likely stop for food at Sunshine seasons because it's our favourite and all my auntie talks about in between trips is the best chocolate cake she has had ever " in sunshine seasons so who are we to deny it! We will head into world showcase to have a look at all the beautiful topiaries and get me some candied strawberries from China " I have been dreaming about these since I left! We have a 3.30 reservation for Beaches and Cream which we may keep or we may not, we are undecided we love going and this was the only reservation we could get for the whole trip! We will probably head back to resort for a freshen up then we will either head to Magic Kingdom or possibly back to EPCOT (this is usually our first night tradition!)
Thursday 27th April
We will be heading off to Magic Kingdom hoping to make rope drop to see the new show but we don't have a very good track record with early mornings so we will see! We have FP for Big Thunder Mountain (we are very excited to ride this as it was closed during our September trip), Peter Pan's Flight and 7 Dwarfs Mine Train we also have a lunch reservation for Be our Guest " we love this place! I also want to try and see the Festival of Fantasy parade too and hoping for light crowds so we can get more rides done! We have a free evening tonight so the world is our oyster!
Friday 28th April
I think me and mam will probably venture down to Disney springs, aunty and uncle love the water parks so we may split up, they love Disney springs but they like it better on a night, me I love it anytime and you don't need to ask me twice to have lunch down there either! We will have an early lunch then head to Animal Kingdom on the afternoon/evening, this will be the first time me and mam have seen Animal Kingdom at night as due to the hurricane we missed out some must do's for us so Animal Kingdom had to take a back seat but I am so excited to see it at night! We have FP for Kilimanjaro Safaris at night and Rivers of Light we also have spate FP for Kali River Rapids for auntie and uncle and Expedition Everest for me and mam.
Saturday 29th April
We have another free morning but me and mam have reservations for Homecomin' this was such a massive hit for us last year so there was no way I wasn't going this year! We have plans to go to EPCOT on the afternoon/evening with Frozen Ever After FP " me and mam haven't been on this yet I know I have to ride it but I'm not excited for it.........I will report back with my feelings! We will probably hang around for Illuminations too!
Sunday 30th April
This day is pretty much free for whatever we want to do but we are going to Magic Kingdom in the evening with FP for Haunted Mansion, Big Thunder Mountain and 7 Dwarfs Mine Train we also want to catch wishes as it finishes the day we arrive back in the UK, I'm so sad to see it go as I love it so much but I am also very excited to see what the new show is like!
Monday 1st May
We start off the day with EPCOT and Test Track FP we also have additional FP for Living with the Land and Journey into the imagination I think we might also try and get on Soarin' if the lines are quiet as we love it so much, we will probably snack around the booths and then either go straight to Hollywood Studios or maybe back to the room for a short break and freshen up, we are hoping to catch the Star Wars Fireworks as they are just mesmerising!
Tuesday 2nd May
We have BOG reservations for 8.30 which I think we might try and make before heading over to Hollywood Studios where we have FP for Tower of Terror (me and mam), Frozen Sing along (Auntie and uncle), Toy Story Mania and Star Tours (aunties favourite ride at Hollywood Studios!) at some point on the evening we will be heading over to EPCOT for more Flower and Garden I anticipate a lot of time spent here to study the topiaries and just take in the atmosphere!
Wednesday 3rd May
We are doing something today that we as a 4 piece have never done before........go to the beach! Auntie and uncle visited a place called Anna Maria Island on the Gulf of Mexico coast when they visited Florida in 2014 with their daughter and her children and they fell in love with the place and have wanted to go back since......they are beach people me and mam on the other hand are not! We visited 2 beaches on our first 2 trips cocoa beach and St Pete's I think? The reason we don't visit beaches is I don't like sand in my toes yack! I also have never swam in a sea like anywhere ever! So one weekend we got to talking and looking at pictures and I was like I WANT TO GO! Much to the surprise of everyone else! This also means I get to drive a hire car some distance which very much excites me I love driving in the states more than I do in the UK if I'm honest! So it was settled! I have even bought myself swim shoes to avoid the sand in my toes, it's also looks like a beautiful place to just explore so I think me and mam will certainly go and explore for sure! This is a day I'm super excited about! We also have FP for magic Kingdom on the evening if we are back in time because the world is our oyster!
Thursday 4th May
May the 4th be with you!!!! I don't think it will take long to guess where we are going today? Yep Hollywood Studios it is! I should hopefully have a star wars vest that is being made for me by then to wear on the day and we have FP for Toy story Mania, Frozen Sing a Long and Star Tours of course! I might even try and get in backlot express for some Star Wars themed food! We don't have any other plans for the day so we shall see where the force takes us.....
Friday 5th May
We will be visiting Animal Kingdom today with FP for Kilimanjaro Safaris, Expedition Everest (me and mam), Kali River Rapids (Auntie and Uncle) and Dinosaur.....this will be a new one for Auntie and Uncle as they haven't been on it, me and mam have and I've put it in the same category as Jaws at Universal studios NEVER AGAIN but I've been told I should try and experience it with my eyes open......I'll try but I've never made it yet! If nothing else it should make for an entertaining picture at the end! We have no plans for the evening so we could end up anywhere!
Saturday 6th May
EPCOT is on the cards for a bit wander and explore, our FP are for later in the day when we visit Hollywood Studios with Star Tours, Tower of Terror and Fantasmic again this day is pretty flexible so not any major plans
Sunday 7th May
We are headed to Magic Kingdom with FP for Splash Mountain, 7 Dwarfs Mine Train and Pirates of the Caribbean with a Be Our Guest Lunch somewhere in between we might try and stay and watch the Parade because we love it so much! We will then be heading to EPCOT for the evening as we love nothing more than finding a spot in world showcase with an alcoholic beverage to watch the fireworks from
Monday 8th May
We begin to come to the end of the trip so our penultimate full day will be spent at EPCOT with FP for character spot, Soarin' and Living with the Land we will be taking in all the final daytime activities before heading to Magic Kingdom for our last opportunity to see wishes before it ends " spoiler alert I will cry although I'm excited to see the new show wishes will always hold a special place in my heart
Tuesday 9th May
Our last full day at Disney! How did that happen! We always make a tradition for our last day to be spent at Magic Kingdom with FP for Big Thunder Mountain, Peter Pan's Flight for auntie and uncle and Haunted Mansion for me and mam and of course 7 Dwarfs Mine Train as our final ride, we will probably head back to do some packing *sob* and then head out to EPCOT for our final night this again has become a tradition I always cry because it's my last night, luckily enough in September we struck lucky and got extra magic hours on our final night and managed to ride Soarin' one last time and again we have extra magic hours this year so keep those fingers crossed!
Wednesday 10th May
Travelling home day
always a sad day in our books even 16 days is not enough!!! We will most likely take our bags to the Disney Springs drop off location for Virgin Atlantic and get our bags checked in so all we have to do on arrival at Orlando airport is look at the shops! We find it saves us loads of time and we enjoy that last minute stroll around Disney springs we just love the area so much! Then back for the last meal on Disney property before getting picked up by the tragical express
then it's the long flight home followed by the long drive home then start planning for the next one!
I'll be posting my trip report when I get back and can't wait to share! If anyone is in the same place at the same time I'd love to try and meet up with you!
__________________