DAY 1 " Thursday
We were up at the break of dawn to take a shuttle bus to the Detroit airport. We sat in the front row and were off to Chicago's Midway airport on time. Upon landing we had to make our way to the other side of the terminal to our second gate. The head flight attendant did the usual safety lecture, but inserted some very funny comments to it. She had the entire plane giggling. A skycap helped us to get our luggage to the Disney Magical Express, and upon stepping outside we were introduced to to our first taste of Florida humidity!
We waited only a few minutes to board the DME
and we stopped at Coronado Springs before arriving at All Star Sports only to learn the room we were expecting was not available! We had paid for a preferred room and had requested an accessible room with roll in shower; the room offered to us had none of these amenities. After some discussion with the Cast Member at the main desk we were moved to All Star Movies, and at their concierge desk they put us in a non-accessible room off in the boonies. I explained that having an accessible room was vital, but location at this point wasn't an issue. The CM found us an accessible room in a non-preferred room and said we could move to a preferred room by the main pool Sunday night. I said that would be just fine and thanked her for her hard work. She had called about six other resorts to try and find us a suitable room! Also, she was able to find us a reservation for Biergarten that evening!

In Germany, we were seated with another group of guests who we had a nice conversation with. We sampled a wide variety of German food and when it came time for dessert I found the cheese cake to be excellent. I had several pieces! A highlight was a guy who 'played' cow bells with great precision. On the way to the front of the park we enjoyed the fun bouncy music played before IllumiNations. Our fast passes allowed us excellent 'front row' seats very close to the show. It was Dawn's first time seeing it and she was very impressed. We were surprised to feel waves of heat from the fire barge!
DAY 2 " Friday
Our first full day! Dawn decided to wait until the afternoon to go out, as she was still tired from our day of travel. I chose to head to the Magic Kingdom, arriving around 7:15, (I did not sleep well) and was one the first people in line! I ended up talking with a young woman who is very much a Disney fan. She was dressed in Stitch apparel from head to toe and had arrived early in hopes of being the person to be picked to ride Mad Tea Party with Alice. We had a long discussion about all things Disney prior to park opening.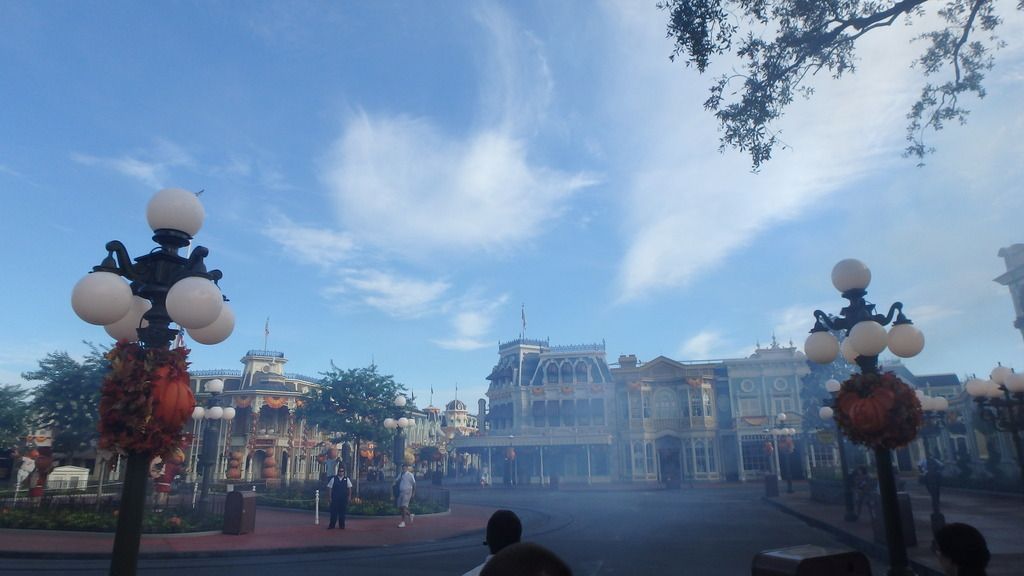 At Rope Drop it was funny to see so many people heading for Anna & Elsa and the Mine Train.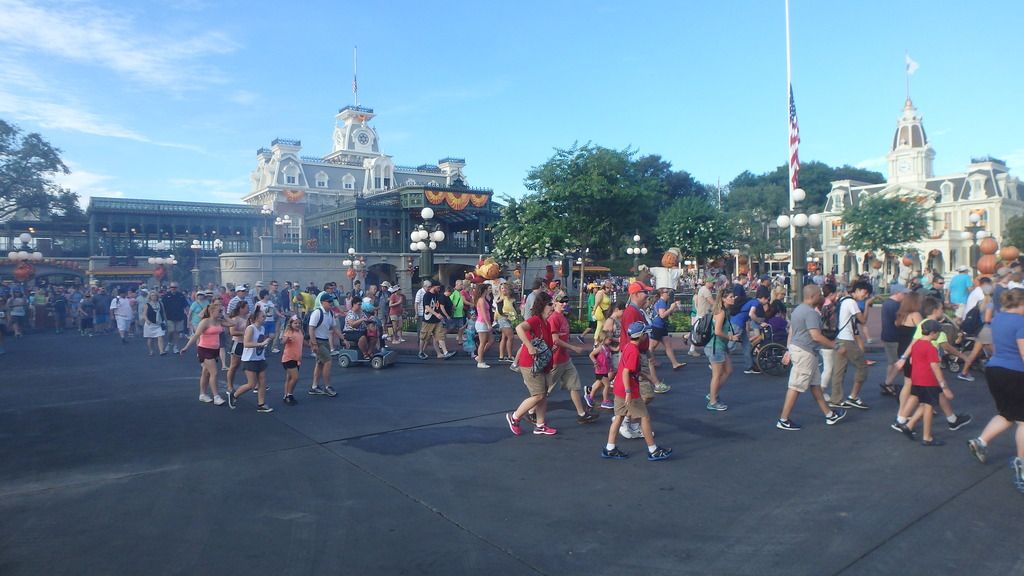 I must say the Cast Members do an excellent job of crowd control.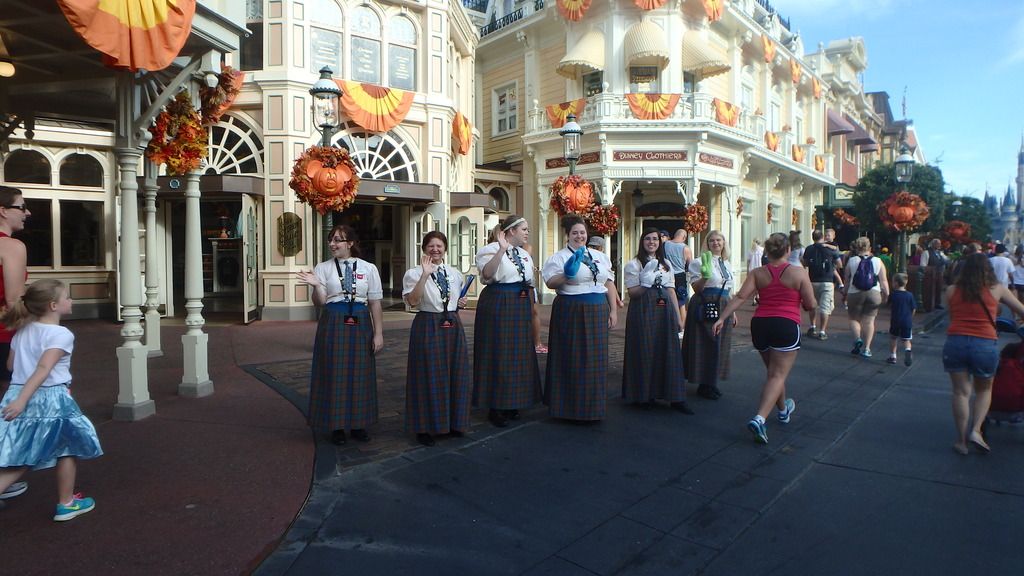 I made a beeline for Merida's meet and greet as she is one of the few characters I had yet to meet. She was very amusing.

I then made my way to the Polynesian for a reservation at Ohana,and had time to see some of the sights, including a rather phallic tiki god.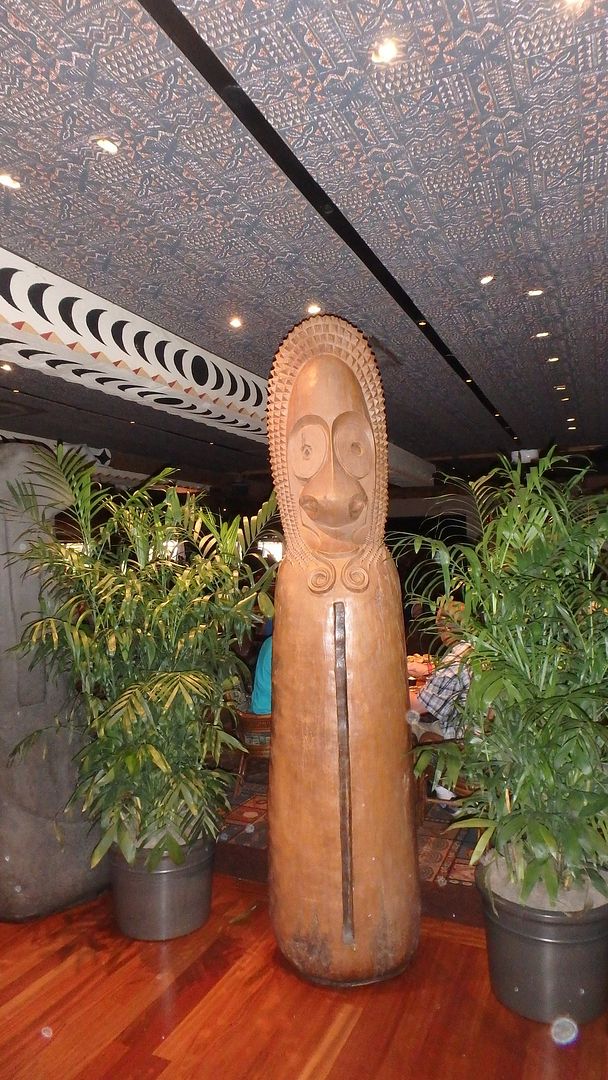 Unfortunately, this did not go quite as planned for I ended up waiting for over 45 minutes before canceling my reservation, as I had fast passes fast approaching. I explained to the CM at the Ohana reservation desk that I was hoping to meet Lilo and they very kindly brought her over for a quick photo and autograph!

Back to Magic Kingdom! I had my photo taken on a fire engine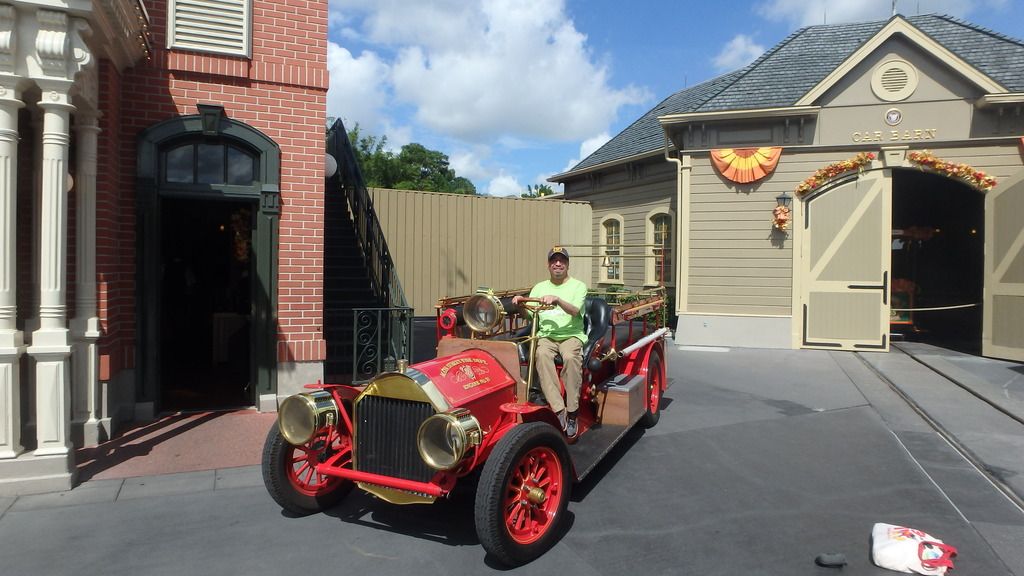 and was just in time for both the Trolly show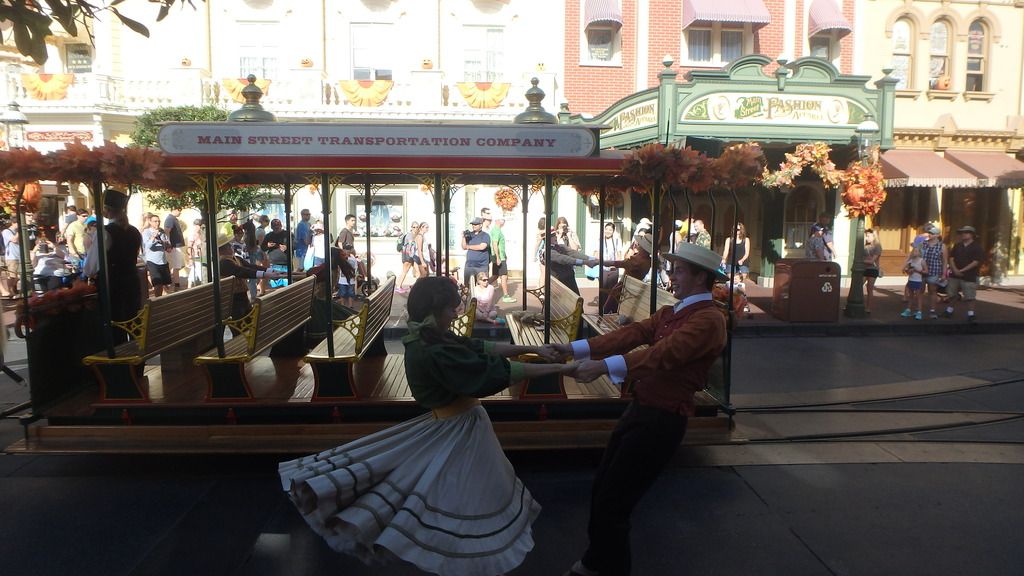 and Move it! Shake it! Dance and Play it!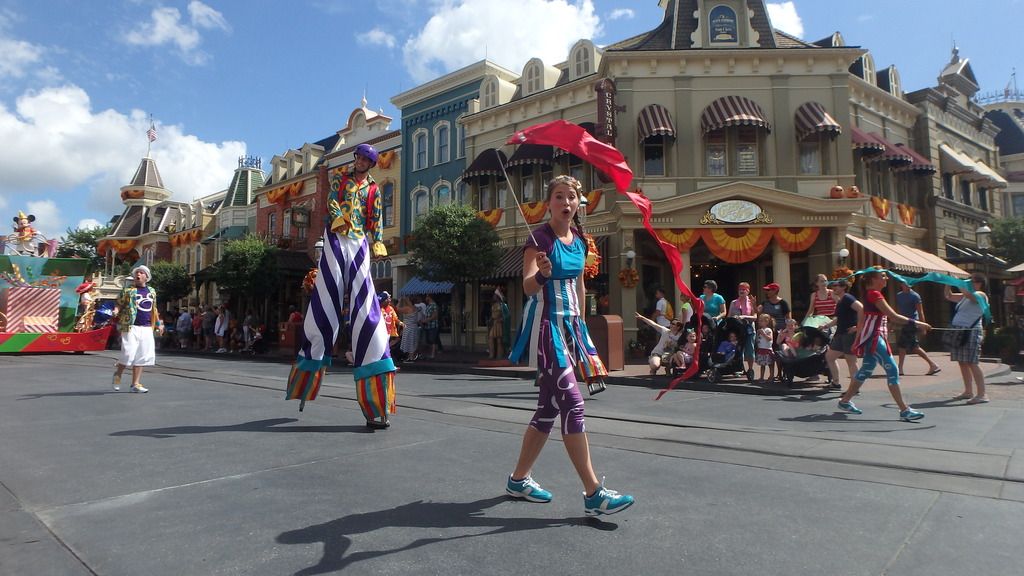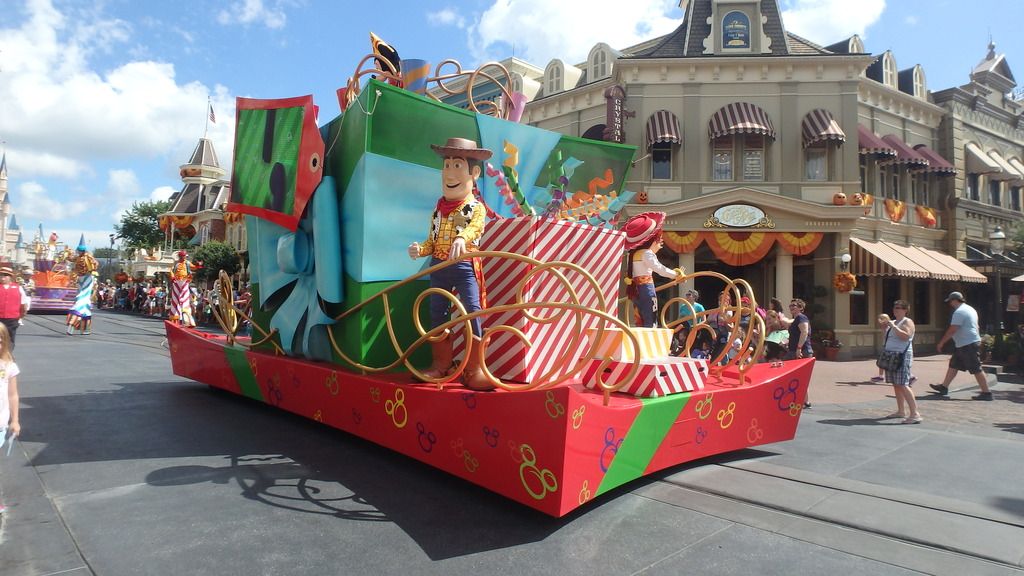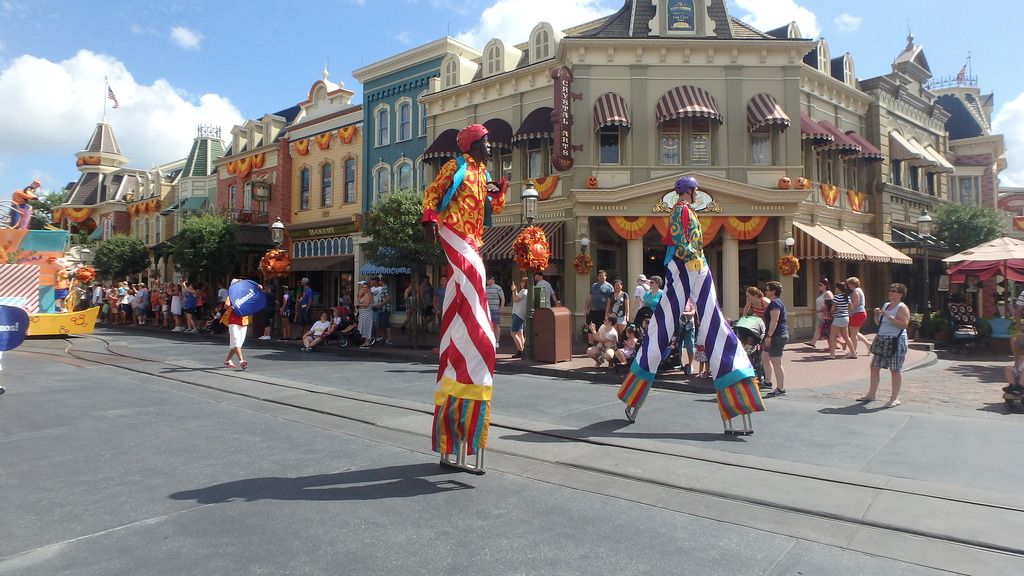 Fast Passes for Haunted Mansion. I found a nice book about the attraction at Memento Mori. My second fast pass was for Splash Mountain. SPLASH MOUNTAIN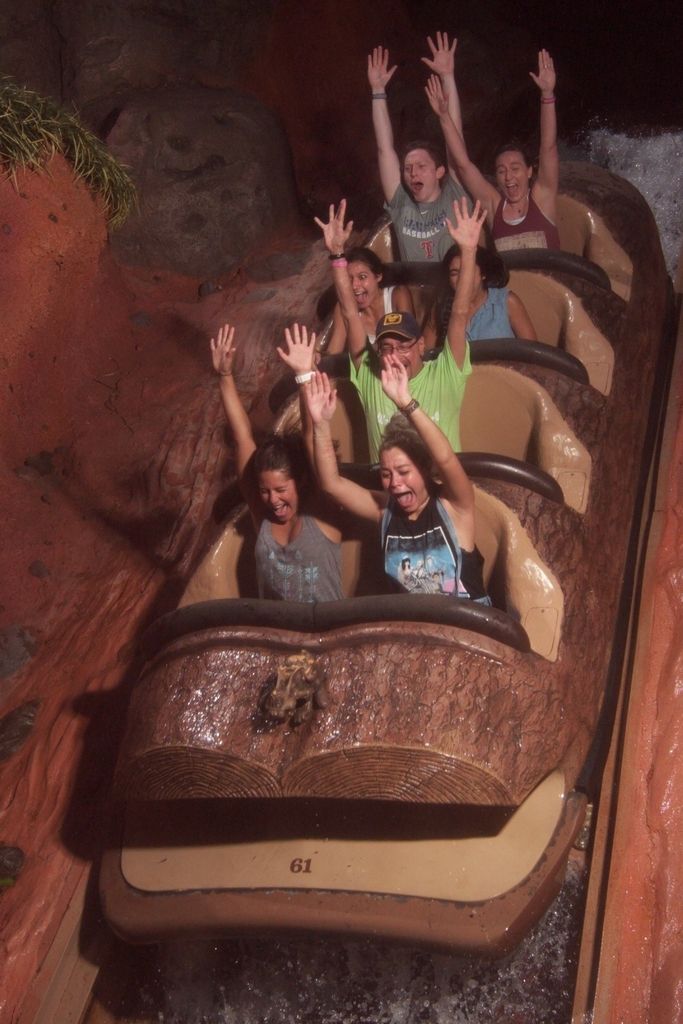 It was my first time with Brer' Rabbit and wow, what an awesome ride! Sitting in the second seat of the log allowed me to only get splashed a little bit. The two women in the front row were not as lucky. I almost bought a plush Brer Rabbit and probably should have for a few days later they were sold out.
In the Hub I met Marie the Aristocat!
I chose to forgo my third fast pass for Jungle Cruise in favor of returning to our resort for a much needed nap.
After our nap, Dawn and I headed for Hollywood Studios just in time for Fantasmic. We were seated at the very top of the amphitheater in the middle.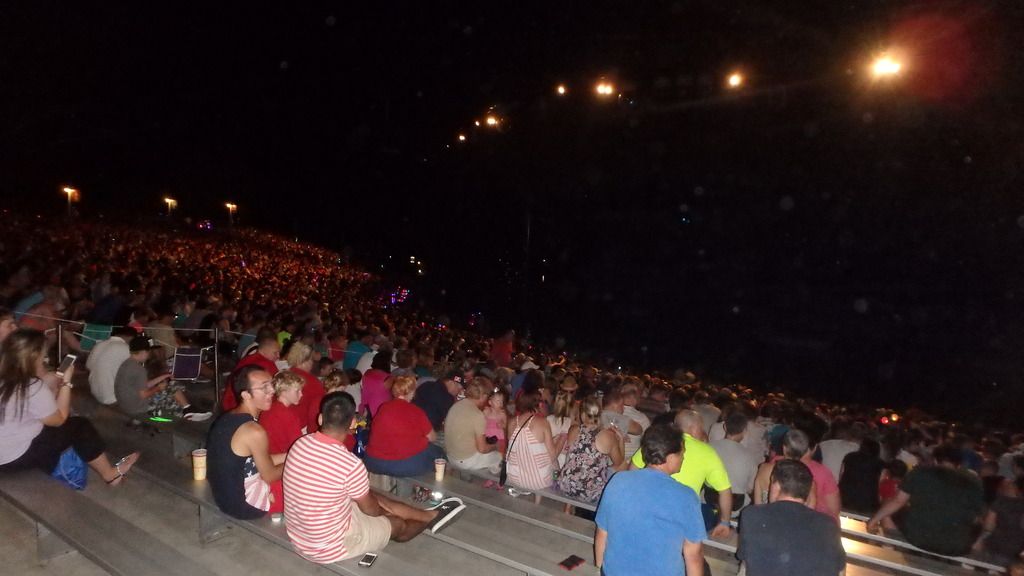 A very visible (in the near distance) thunder storm passed by just north of Hollywood Studios but no rain appeared and the show began on schedule. Everything about it was incredible; the music, the characters, story, and especially the scenes projected onto the water spray. Neither of us had seen it before and we were both very impressed. Seeing as it was to be my first time seeing it, I didn't bother taking photo as I wanted to just enjoy the show! I bought a CD of the music on our way out. Wisely waiting till much of the crowd left, we took our time returning to the bus.
DAY 3 - Saturday
Dawn was not feeling up to snuff so I headed to Hollywood Studios for rope drop and walked into Tower of Terror,
,
an attraction which truly lived up to its name.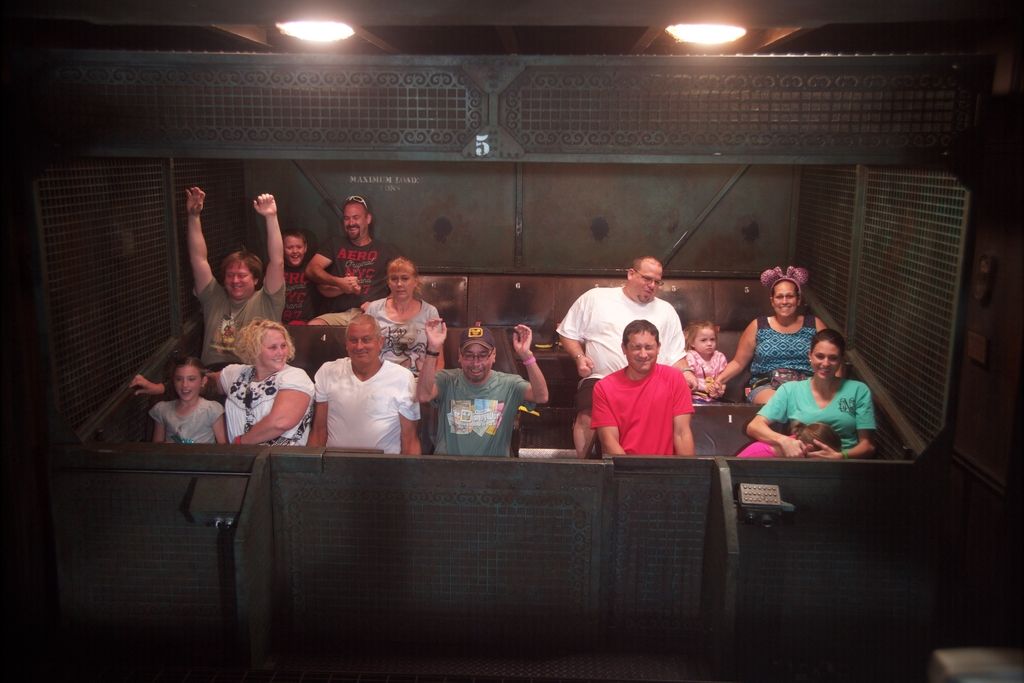 Once was enough for me, though it was a very impressive and highly detailed attraction. The dropping part nearly did me in!
Time for breakfast. Luck was with me as I managed to get a walk up at Hollywood & Vine,
breakfast with Doc McStuffins and other characters, which was very yummy.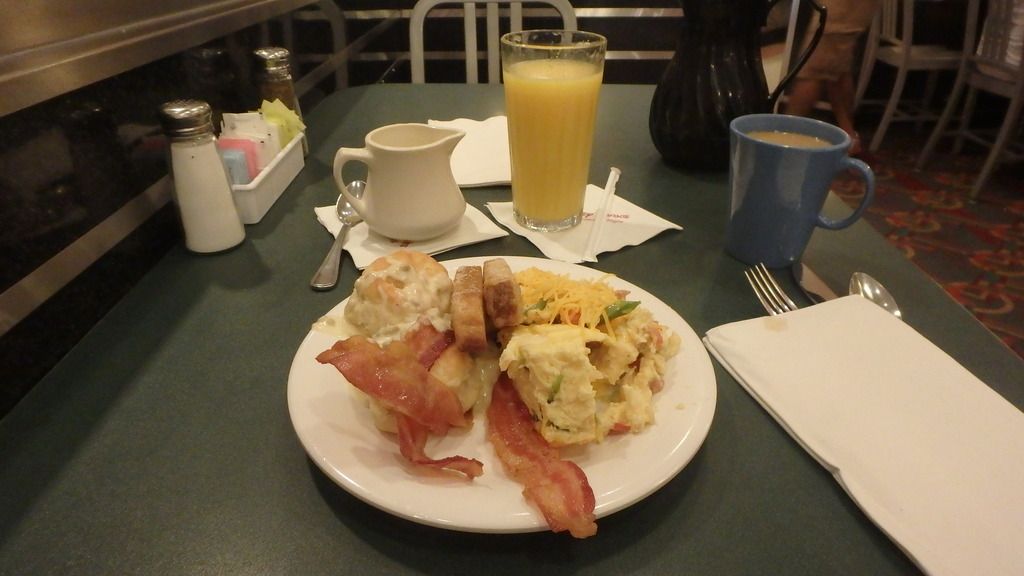 I particularly enjoyed the Mickey waffles and the biscuits and gravy. I will admit to having several helpings. Meeting Doc McStuffins
was a thrill as she is one of my favorite characters.
I also saw Doc at her new Meet & Greet location. A couple of days later, in Magic Kingdom, I found a Doc and Lambie plush to add to our growing collection.
I had time for a quick visit to Honey I Shrunk the Kids and felt very small!
On the way out of Hollywood Studios it seemed that everyone else was arriving at the park!

Animal Kingdom was next on the agenda.
Upon arriving I managed to see Divine!
I had fast pass for Kali River Rapids. I wore a poncho and managed to avoid getting too wet. I will definitely have to ride it again. A few people got absolutely soaked! I found the 'big drop' to be somewhat underwhelming, but it is a fun ride, especially during the heat.
Lunch at Yak & Yeti was delicious; I had Chicken Tiki Masala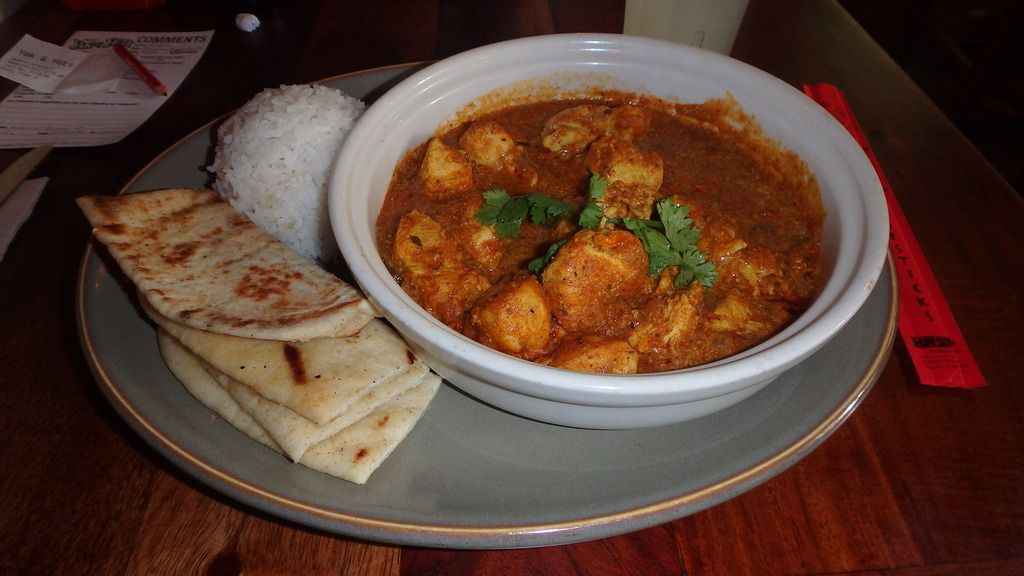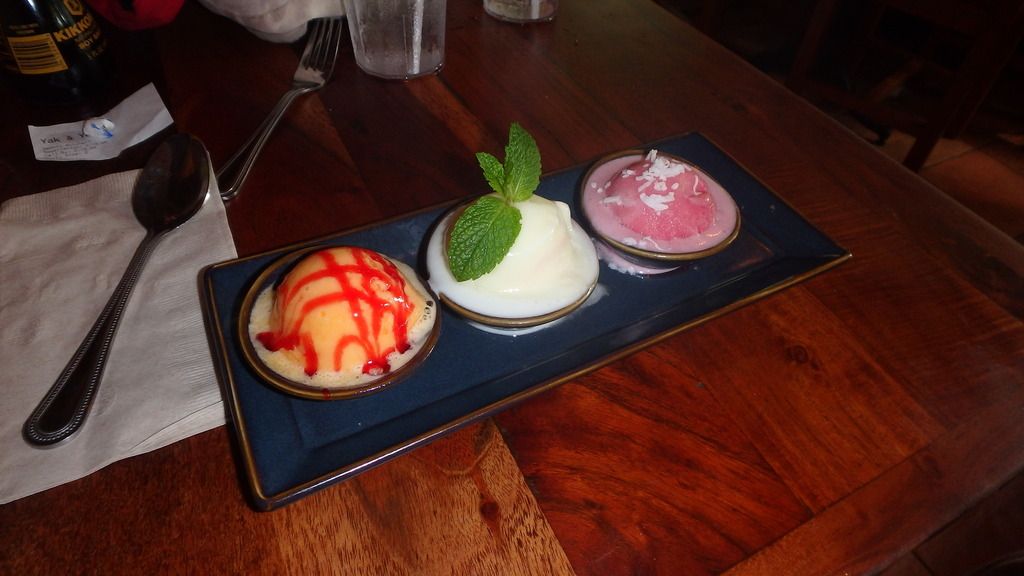 with assorted sorbets for dessert. Their lemonade was great; I had two large glasses. My server was a very friendly happy fellow. Single Rider line at Expedition Everest was next.
It had a short 10 minute wait, and was just as thrilling as I remembered. Next up was Dinosaur, which was a fun and bouncy ride. Over to Festival of the Lion King where everyone sang along to the music.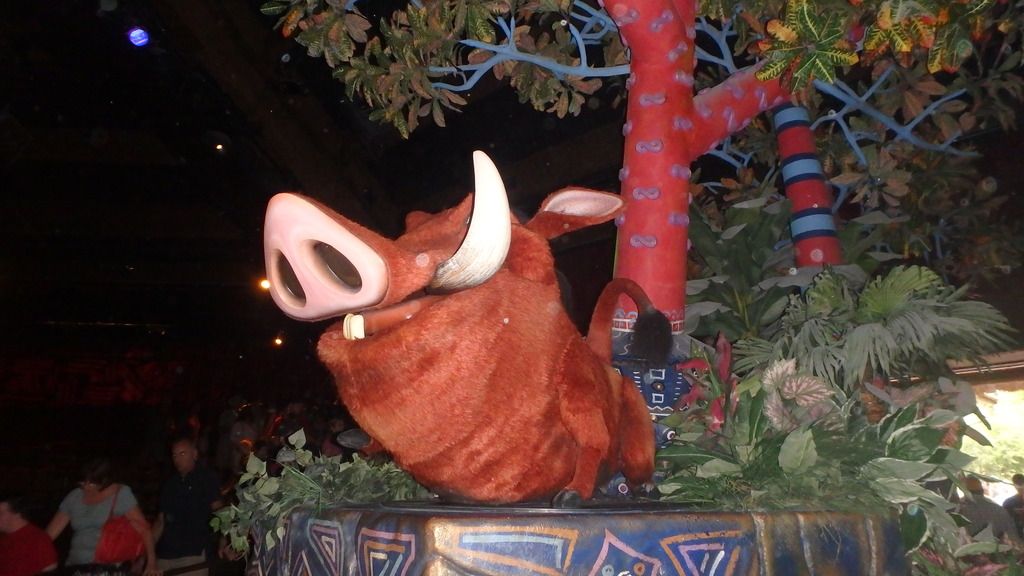 I was in the Giraffe section. PUMBA
Kilimanjaro Safaris in the rain!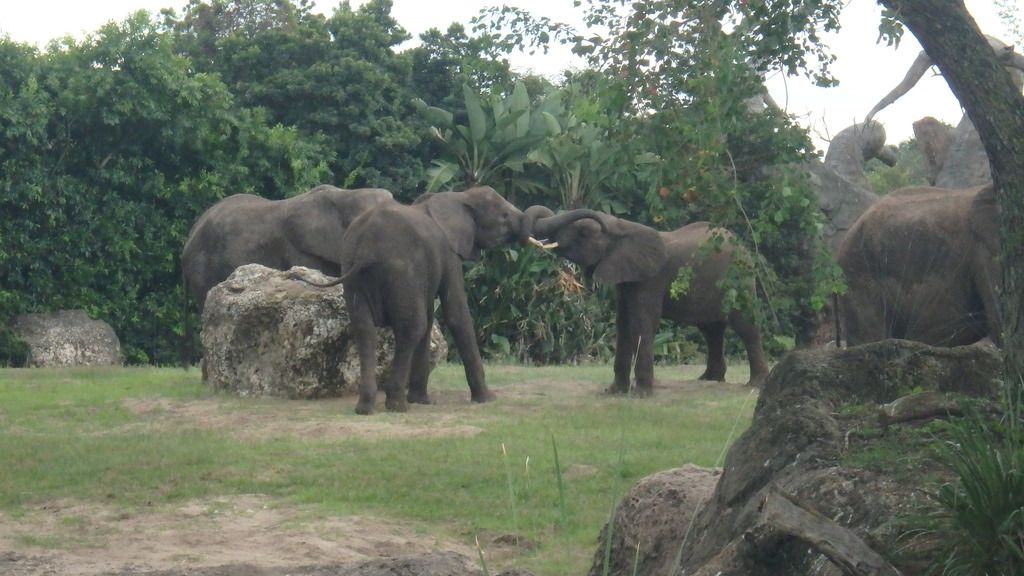 Baby Giraffes were seen as well as a baby Rhino! Our guide answered many questions and slowed the vehicle several times so people could get photos. One woman on board was a big fan of Giraffes; in fact she was wearing a giraffe-print shirt and Giraffe hat. You might say she was Disney-bounding as an Animal Kingdom Giraffe! When we arrived by a pair of baby giraffes she was so happy I'm pretty sure she shed a tear or two.
I scampered over to Flights of Wonder (which ended up being the only attraction on my agenda I didn't get to see) but was too late to see it so I headed back to Dinosaur for one final ride. As we waited in line, the ride broke down briefly, so a friendly CM asked everyone assorted trivia questions while we waited. I learned that the red, yellow, and white pipes with the chemical formulas on them were the formulas for ketchup, mustard, and mayo! I managed to stump everyone with a question about the name of the Evil Queen from Snow White.
Back to the resort to see how Dawn was doing! I went to the food court to get her some dinner and then headed to EPCOT. It was just starting to rain as I arrived and hordes of people were leaving the park. I bet half the park was leaving. I walked onto Mission Space Orange and was seated in the capsule with a couple who'd never been on the ride before. They loved it! Some poor unfortunate soul was being tended to by paramedics in the gift shop. Then I wandered World Showcase looking for dinner. After being turned away at a few places, I was lucky enough to get a walk up at Tutto Italia. The meal began with a little plate of very large olives, olive oil, and thinly sliced toast. The main course was a pesto dish I would love the recipe for. It was amazing.
Finally, what they called gelato was served. I have had gelato. What they served me was ice cream. I would add that the service was great; It seemed someone came over to see how I was doing every few bites!
Upon finishing this memorable meal, I had a surprise, running into my Cast Member friend purely by chance! We made plans to meet up in a couple days and then I watched IllumiNations again, this time from near The American Adventure.
DAY 4 - Sunday
Today was the day we were to be moved to a new 'preferred' room, right by the main pool, mere steps from the main building! We had a lazy morning, beginning with a hearty breakfast at the food court; Dawn had a big helping of scrambled eggs and I enjoyed a bounty platter.
We stayed in the food court for some time, needing something to do while we waited for our new room to be ready, so I found a set of coloring pages including magic markers, which helped to pass the time. We handed the completed drawings to assorted children. Also, it was a rather blustery morning and ponchos were selling briskly in the gift shop. We had brought our own from a local Dollar store. Disney must make a fortune from selling ponchos at $10 each.
Once we moved into our new room we headed to Hollywood Studios and Lights, Motors, Action! which featured a surprise appearance from Lightning McQueen!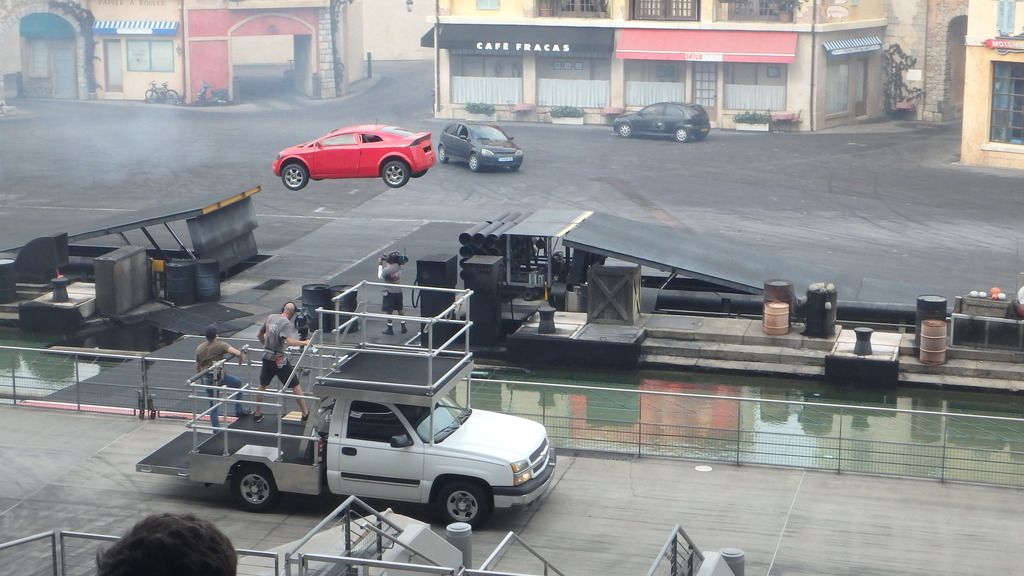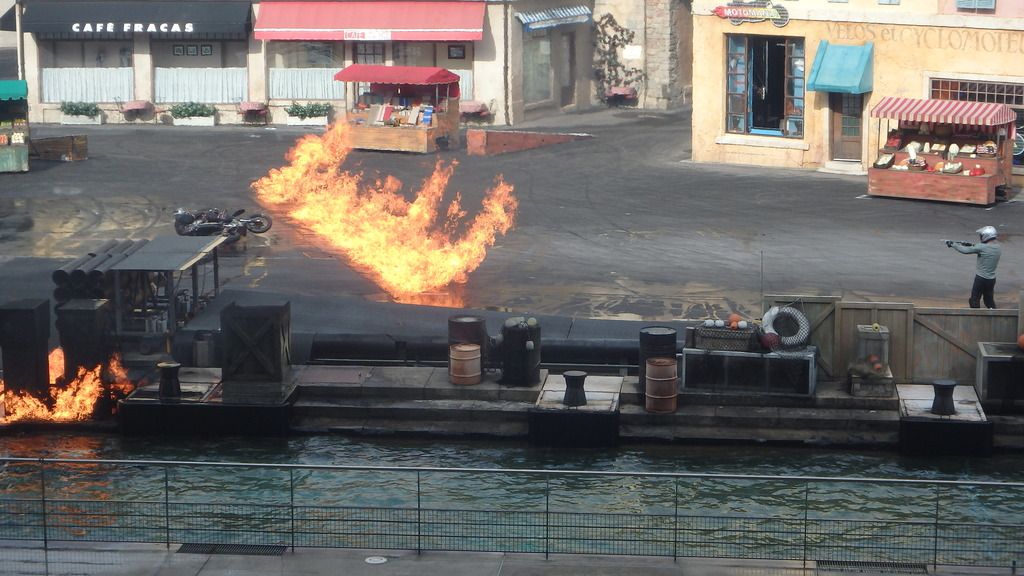 Then, due to some good luck and help from the resort concierge earlier that morning, we had a dinner reservation at Hollywood Brown Derby, BROWN DERBY which was excellent, though surprisingly lacking in service. Our server didn't come by even once to see how we were and had to be flagged down to get us more drinks. He even had to be flagged down to get our bill! For two meal credits I was expecting much better service. The food, however, was phenomenal. The appetizer was little warm buns with the best butter I have ever tasted.
I had the filet, which came with beans and excellent mashed potatoes. I don't recall ever having better steak.
Dawn had chicken and reports it was great.
Dessert was fun, three little chocolate treats. After dinner we took in The Great Movie Ride, which was finely detailed and quite amusing. My favorite part featured a scene from The Wizard of Oz.
Then, after dropping Dawn off at the resort, I headed to Magic Kingdom, arriving in time to see Wishes, followed by my first time at Carousel of Progress. I shall have to see it again before I leave. I had been told by a friend to look for a cat in every scene, but I only counted four. It really is a classic.

Next, I went to see Tink, and on the way out I encountered a wonderful surprise;
Rabbit (from Winnie the Pooh) was by the exit doing a surprise meet & greet. Silly me, I didn't have my autograph book with me. I did get his autograph on a piece of paper and a CM helpfully took photos with my camera.
Back at the resort, I made sure to check on my reservation for the next morning's Keys to the Kingdom Tour, something I was very much looking forward to!
Monday, Day 5
Up early with the birds. Had a bounty platter for breakfast at the resort, then went to Magic Kingdom for Keys to the Kingdom. Upon arriving, a CM asked me if I could wait until 9 to begin the tour. I agreed. Free time in the Magic Kingdom before it opens? Who's gonna turn that down? I took lots of photos around the hub and main street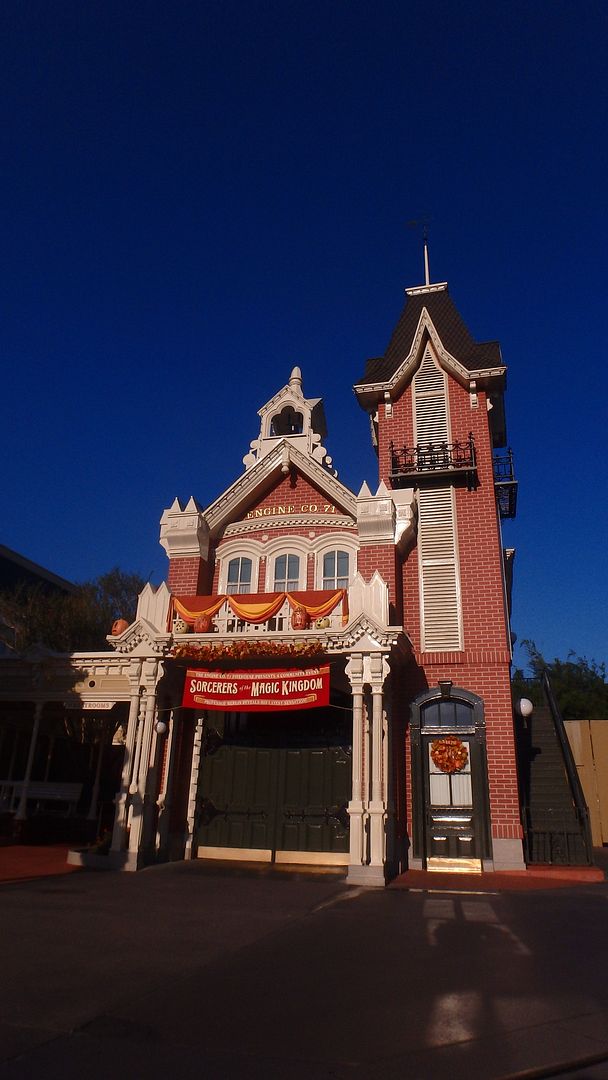 and got some photos of Cast Members herding the teeming multitude up Main Street.

The tour was amazing. The young woman who hosted the group was very knowledgeable and clearly enjoyed her job. Lunch at Columbia Harbor House was great!
Everyone received a nice key-shaped pin as a souvenir. We got to go on Haunted Mansion and the Jungle Cruise, learning lots of 'secrets' about both attractions. Getting to see the utilidoors was incredible, especially our brief look at the VERY long and wide corridor below the hub and Cinderella Castle. The little ear pieces worked fine. Taking photos was strictly prohibited.
Even though my legs were very wibbly after all the walking I was still pretty excited and then proceeded to scamper around the Magic Kingdom, enjoying my favorite stuff. At the Churro cart I asked for a churro. "That'll be $9.50", said the Cast Member. "Wait... What?", I stammered. The Cast Member looked at me with a serious face for a long moment then suddenly burst out laughing. Apparently he'd been playing this trick on a few people that day!
On the way to Adventureland I saw a real live alligator! It was sunning itself on a riverbank below a bridge just before Splash Mountain.

I had fast passes for the Haunted Mansion, Enchanted Tales with Belle, and Splash Mountain, where I encountered the only less than magical Cast Member of my trip.
I arrived at Splash Mountain, and at the Fast Pass touch point, it flashed blue, so I headed over to the little shop for a bit. Upon my return it flashed blue again, which was a surprise as I was then clearly in my fast pass window. I explained this to the CM who said, rather curtly, "You used your fast pass at 12:21". I again explained that I had tried earlier and had yet to ride Splash Mountain. Again she told me I had already used my fast pass. I reasoned with her; 'If I was just on Splash Mountain wouldn't I be at least a little bit wet?' She finally waved me on through with a sarcastic, "Fine."
I also managed to see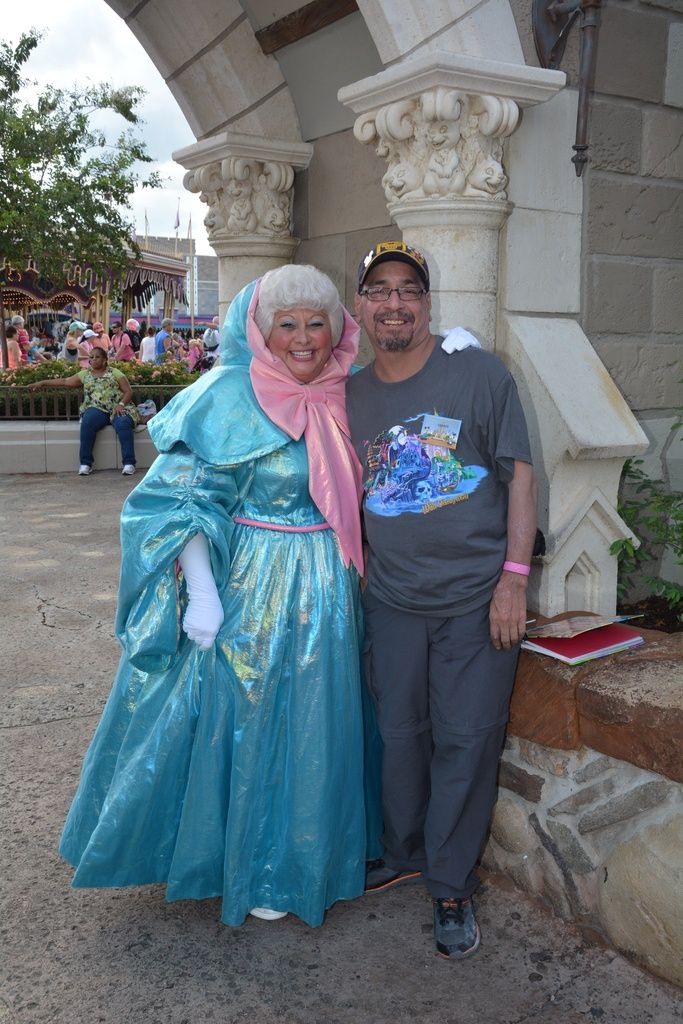 Fairy Godmother, who was happy to receive the little Sarnia and Canada pins I had been handing out, and gave me a little bag of pixie dust in return! I just missed seeing the Tremaines.
Enchanted Tiki Room was fun, not too crowded and there was no wait at all. The people who were there had clearly been there before as just about everyone sang along to the music. Then I had to get a Dole Whip. As I absentmindedly wandered around I narrowly missed being 'spat' upon by the Magic Carpets camel. I used a fourth fast pass at Big Thunder Mountain Railroad, which I think is my new favorite attraction. By this time the line at Splash Mountain was far shorter than earlier, and I took another ride with Brer Rabbit and his friends, followed by two more rides on Big Thunder in quick succession. Wishes began during the second ride! I then learned there was a fantastic fireworks viewing spot right by the exit! They sure look a LOT closer from the back of the park. Park hours had been extended to 10 PM so I headed for Fantasyland, and managed to visit Cinderella and Snow White (I wonder where Rapunzel was?), The Many Adventures of Winnie the Pooh, and Mad Tea Party before leaving.
Day 6 " MNSSHP!
In the morning I headed for EPCOT, enjoying a Napoleon at Les Halles,
a visit to see Figment, FIGMENT Mission: Space Orange, The Seas with Nemo and Friends, Turtle Talk with Crush, Beverly at Club Cool, Soarin', and an interrupted wait for Test Track, which shut down due to rain. I went to see Duffy,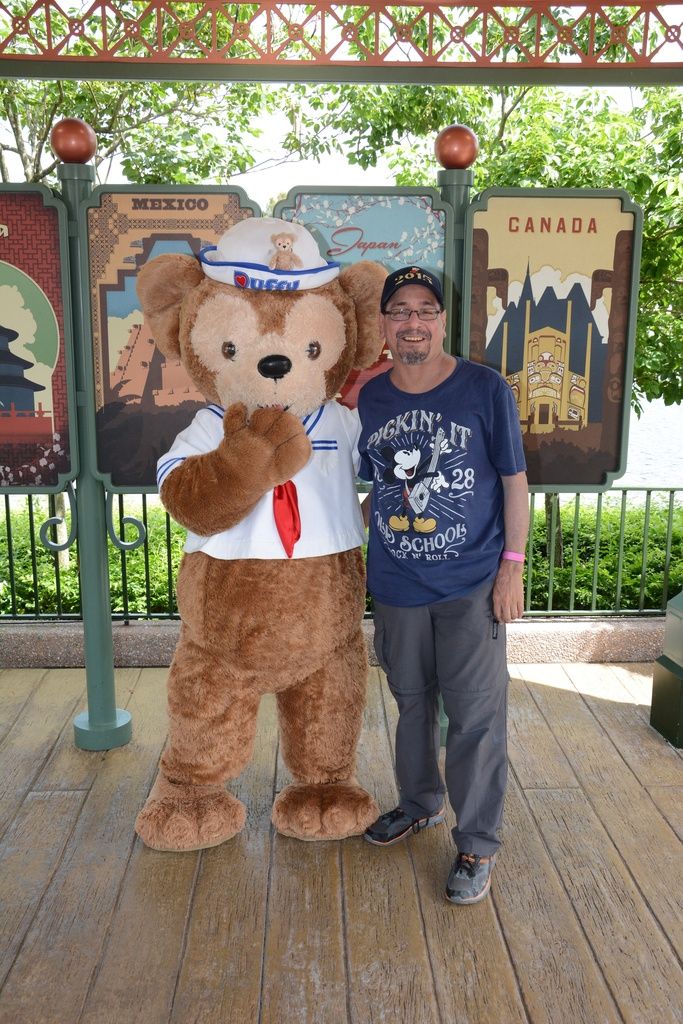 and while waiting, met two nice young women from Japan who had assorted Duffy and Shellie May stuff with them.
Back to the resort to get ready for the Halloween Party. We had supper first, including a 'make your own salad' which was enormous! I got to pick from over a dozen toppings. Then we showered and donned our costumes.
As I had been expecting there was a lengthy wait for the bus to the party. As we approached the bus stop a bus was just finishing filling up and left. A second bus came and filled up too. Finally, a third bus arrived and we were on our way. Most of the people were wearing costumes.

Awesome MNSSHP, though MK was considerably more crowded than I was expecting. Probably two thirds of attendees were in costume; some were real works of art.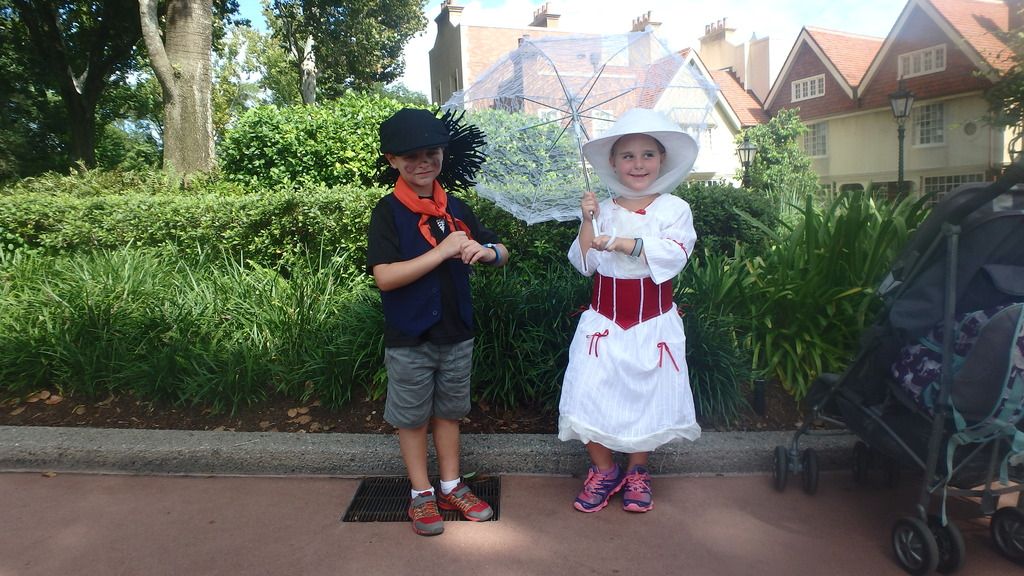 Saw lots of
Inside Out characters and more Tinker Bells than you would believe.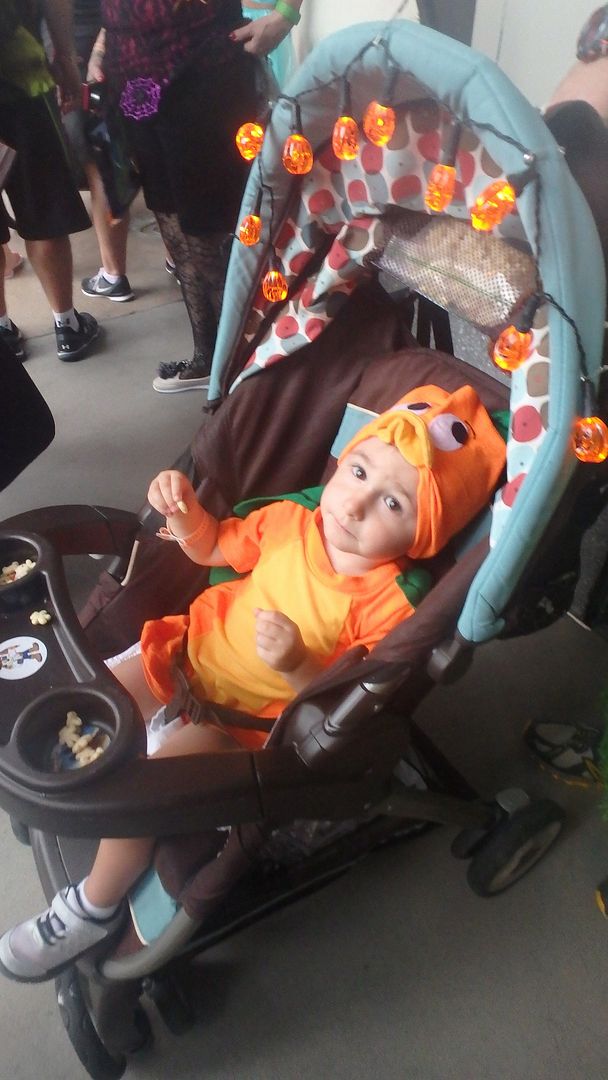 Bonus Tiny Orange Bird! More Anna's than Elsa's. Haunted Mansion characters abounded. Picked up lots of candy.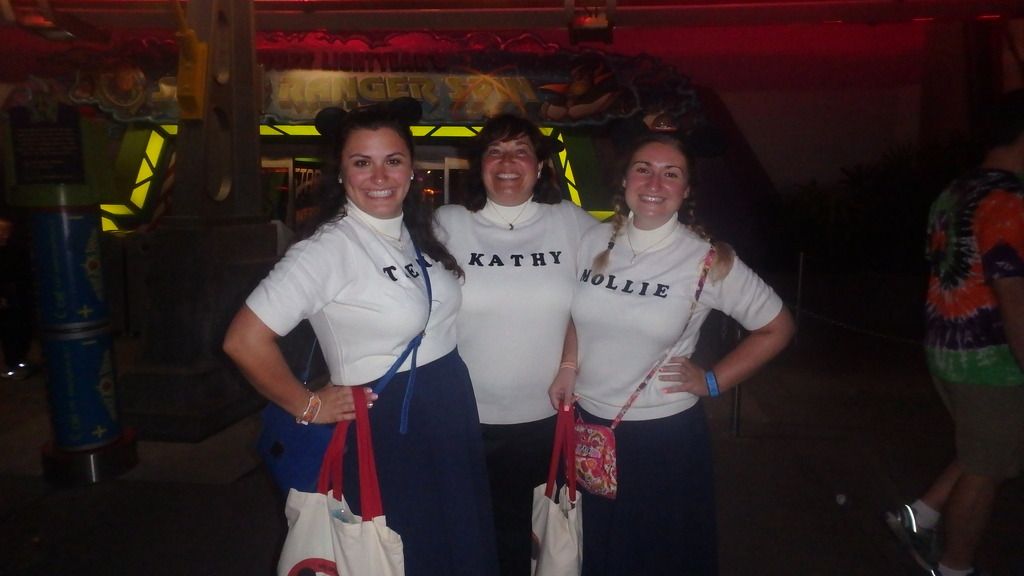 Had great seats for the parade, which was shorter than I thought it would be, though the music and villains were awesome.
Seeing Vanelope was a nice surprise. The Castle show was superlative, the highlight of the evening; we saw it twice, once from very close to the stage. The rendition of Oogie Boogie's song and I Put a Spell on you were showstoppers. HalloWishes was great too. I bought a CD of the event's music on the way out.
Day 7 " Final Day!
AM " Started the day at Magic Kingdom, with fast passes for 7DMT, Haunted Mansion, and then Big Thunder Mountain Railroad. While on 7DMT, the ride vehicle stopped for a few minutes right next to Snow White's cottage! I also had time to meet Jessie and Woody!
I then met my Cast Member friend at Downtown Disney for lunch at Earl of Sandwich SANDWICH (which I recommend to anyone!), having to take a bus to another resort and then to Downtown Disney. It was nice to see her again! I had time to have a quick look at the Lego store
where I found a small Lego Movie set before heading back to the resort to fetch Dawn. Our final visit to Magic Kingdom included a rather late dinner at Crystal Palace w/Pooh and Friends.
We used two extra table service credits to pay for the couple who were seated next to us. We used every credit we had during our stay!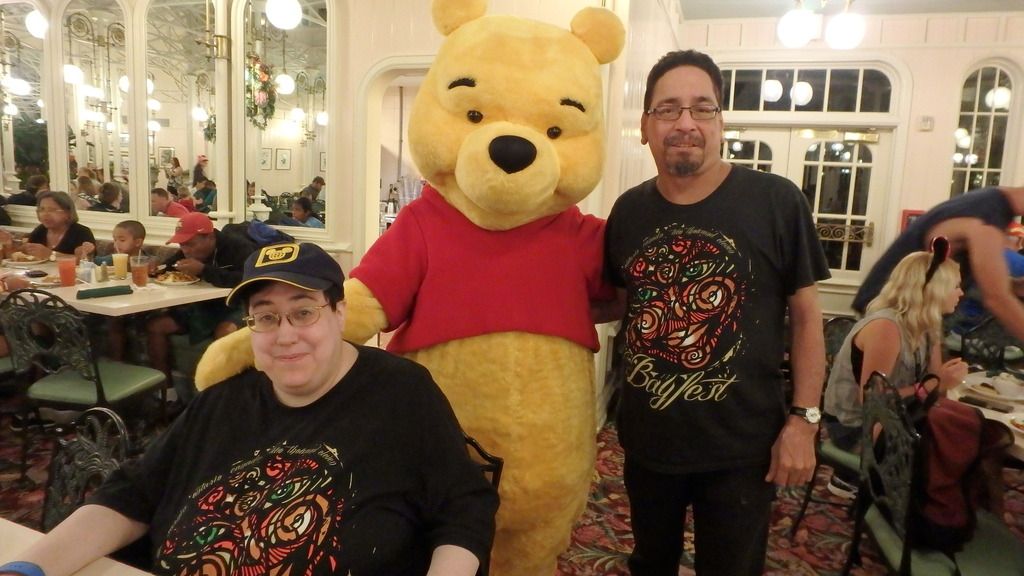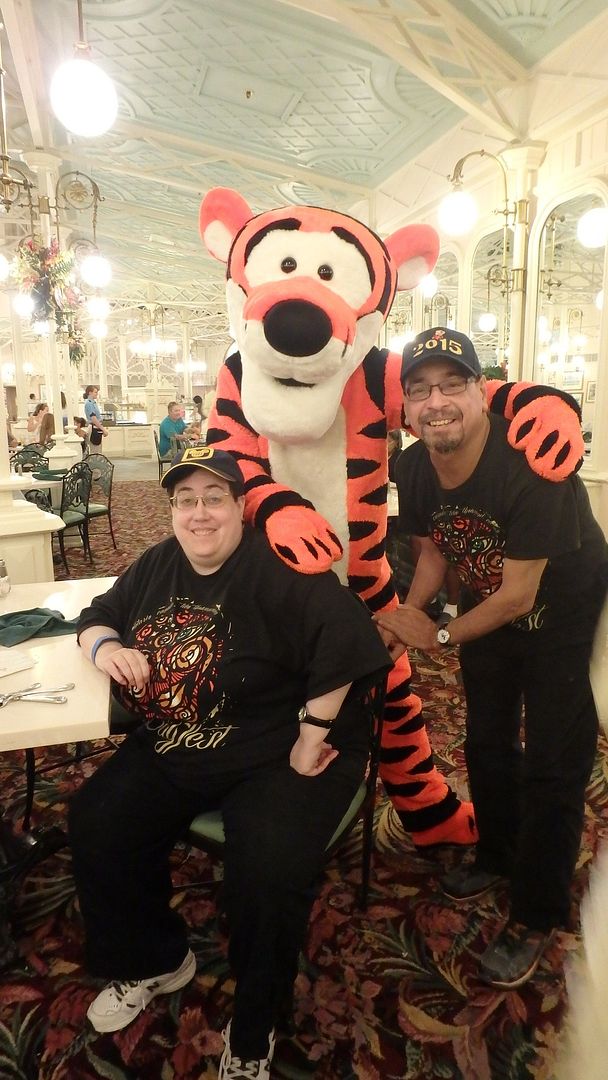 followed by our final viewing of Celebrate the Magic (listening to thirty thousand people singing along to Let it Go sent chills through me). Wishes just in front of the people at Tomorrowland Terrace. Tink flew right over our heads! While waiting for the teeming hordes of people to leave, we had time to pick some snacks for our trip home, including Mickey and Minnie cookies, pumpkin crispy treats and a REALLY big Mickey crispy treat.
The Good
Very helpful CM's who straightened out our room reservation mix up
Last minute reservations to several places
Fantasmic!
Keys to the Kingdom Tour
excellent food everywhere we ate
handing out Sarnia/Canada pins to many people, I got to talk to people from a LOT of countries
helpful bus drivers, who were far more experienced at getting ECV's on a bus than we were
Southwest Airlines " we would fly them again for sure
Bus service to and from the parks was uniformly excellent
Splash Mountain
Big Thunder Mountain Railroad
Seeing a real live alligator on the bank of a river near Splash Mountain!
The Bad
Too crowded MNSSHP. We only got to see one character. Ridiculously long candy line.
Rude cast member at Spash Mountain
The guy who was mightily pissed when told to move his family away from the wheelchair parade viewing section during MNSSHP. It was neat to see how fast other CM's came to help.
The Ugly
The woman who had a meltdown at Cinderella's Royal Table upon learning she and her freshly-bibbidi-bobbidi-boo'd daughter did not have a reservation. It seems she was under the impression that going to the boutique guaranteed a reservation. Her poor daughter was sobbing while she ranted at the CM's. About four CM's were on hand, trying to calm her down.
Other Observations
Disney Dining Plan; We ate at some really nice table service restaurants but I'm not sure the hassle of having to be at Point A or B at a certain time made it worth it. I bet I canceled and re-booked things half a dozen times. The resort Concierge sure put in yeoman's work for their guests in this regard!
Bus service; The drivers were excellent at helping Dawn's ECV on and off the buses. The only time we had a lengthy wait was the evening of MNSSHP.
Reservation snafu; not the best way to start our trip, but to their credit, the resort people put in lot of effort making things right!
Splash Mountain; I missed this one during our first trip. It is now a favorite!
Tower of Terror; My first time on this attraction will be my last, though I am glad to have done it once.
Park Hopper: How does anyone do without it?
Southwest Airlines: We will use them again in the future, though we will book direct flights next time.
All Star Movies; We consider this our 'home resort' now. Everything about it was great.
Sleep; Once again I did not sleep much. During our arrival day we were up for nineteen hours. I was up the next day at 6:00 AM. And off the parks I went! Admittedly, I did return to the resort for a nap later. I estimate I was awake around 16-18 hours each day.
The agony of de feet; This time around I found myself being much more sore and tired after trekking through the parks. Advil helped, as did the moisture-wicking socks I had brought for the trip. I ended up with two blisters which were taken care of by blister bandages I had on hand.
Accessible Room; This made Dawns trip much easier. Not only did it have more space for her ECV, it had a roll in shower with a little bench. Being close to the main building was nice too.
MNSSHP; I'm still up in the air as to whether it was worth the admission cost. The park was ludicrously crowded, making it just about impossible for Dawn to get her ECV around safely. I don't know how many times people would cut in front of her than give us a dirty look. It was really trying my patience. The parade was awesome and so was the show in front of the castle. Trick or Treating was too time-consuming. We only got to meet one character. I think in the future I would either skip it or book two nights, so I could concentrate on characters one night and entertainment on the other.
Disney Springs; My brief look at it makes me want to return for a better longer look!
Loot; three books, t-shirts including tie dye ones, MNSSHP ones, and Tinker Bell, about twenty pins including the MNSSHP exclusive one, Plush; Stitch, Pooh, Eeyore, Tigger, Orange Bird, Tiny Duffy, Tiny Sorcerer Mickey, Lambie, and Doc McStuffins. Also, a tigger outfit for our large Duffy!, Tinker Bell doll, Chip mug, Tink mug, Lumiere statue, back pack, two giant beach towels, and mousekeeping gave us a heaping bagful of shampoos and soaps!
Things to Remember
See Wishes from Big Thunder Mountain Railroad exit
Do attractions during/after Wishes as there will be no wait at all!
Every quick service restaurant will give you free cups of ice water so don't forget resort mug!
If you see something you want, buy it. It may not be there the next time!
Always take autograph book, you don't know who you might run into!
Handing out pins from our home town was a great way to meet people!
Florida heat sucks the life out of electronics! Was not expecting this!
Take extra suitcase. Playing luggage Tetris is not fun.
Dollar store ponchos are cheap and can be thrown away.