A Pre-Trip.
Okay, okay. I know I should be busy writing up my trip report from the last trip but the blues have hit hard
as everyone knows, the only known way to cure them is to get on with planning the next trip! As you can see from the title, the next will be something a little different from anything before. Different in that of course we are heading to the West Coast - a complete first for us both!
I'll be honest right from the start here, I feel a little out of my depth. Actually that's an understatement, I feel completely out of my depth and totally overwhelmed. I know Walt Disney World like the back of my hand so this is all new to me - its a scary concept not to know pretty much exactly where I want to go/what I want to eat etc. LOL
This report will be a little different to most as it will only feature 5 nights at Disneyland, the rest I fear might not be as interesting to my Disney friends. I thought I would still post a TR though as I love reading all sorts of TR's, hopefully it will be an interesting read, and you never know - someone might like a part of our trip and see something that they would wanna try in the future
How did the trip come about?
There was a flight glitch online in the run up to our last WDW holiday. Sy was out when I saw it online, I quickly did a little more research and found that they would be perfect for our much talked about West Coast adventure. The flights were with Virgin Atlantic flying direct from London to San Francisco and flying direct home again to London from Los Angeles. Sy came home and knew from the moment he walked in the door something was up! First thing he said to me was 'What have you done?' Moi?! Nothing yet dear
You might find this hard to believe (or you may not) but I am actually the sensible one when it comes to money, Sy would spend like there's no tomorrow whereas I reign him back in. So I think you can probably guess how long it took to get those flights booked... 5 mins later we were bouncing round the living room at finally getting our long awaited West Coast trip!
We have been planning and dreaming about our West Coast trip for many years, one of the things that put us off was the huge flight prices, with this glitch we paid in total less than what 1 flight would have cost us. It would have been silly not to book those flights really
at least that's what I keep telling myself when I look at hotel prices and can't sleep at night...
We knew the West Coast was more expensive than Florida so we decided to go for 2 & 1/2 weeks, flying out on the 6th May and getting home on the 25th. We would have loved more but we were worried about affording all the hotels and spending money and thought much less we wouldn't be able to fit in all of the things we wanted to see and do. As it happens we still underestimated just how much more the West coast will be :-\ at the moment we are looking at Super 8 hotels and fast food dinners lol hopefully that could change though before we get there.
The itinerary has changed *so* many times since we booked those flights. We had a list of places we knew we wanted to visit but kinda not enough time to see them all, still there's always next time
The list began like this;
San Fran
Napa Valley
Yosemite
Last Vegas
Grand Canyon
Area 51
Palm Springs
Malibu
Anehiem
San Diego
L.A.
Napa was the first casualty, Sy wasn't that bothered about going there and it was in the opposite direction to Yosemite. As I knew we had so much to try and fit in, I caved pretty quick.
Next was San Diego. We wanted to go for the Zoo and Seaworld but we decided that there's only so much time to fit stuff in and Zoo's are worldwide and we can visit Seaworld in Orlando (obviously they aren't the same but close enough for us to not feel they were a 'must do' on our first trip west).
Then came Palm Springs, we're still planning to visit for the day (at the moment) but I'm still not sure we have the time. Sy is really pushing for Palm Springs but I'm less bothered.
Then came a huge change, Yosemite. First it went from 2 nights to 1 night, to give us 4 nights in Las Vegas. Then we decided it seemed a bit silly to drive for hours from San Fran to Yosemite, get there and sleep, and then get up early for another gruelling drive the next day. The hotels in Yosemite were expensive which helped sway our decision if we were only gonna get there, crash and get up early again. Plus I'm not the best in the car for hours on end. S we have decided to fly from SF to Las Vegas.
Grand Canyon and Area 51, I think we will play these by ear at the moment, we only have 4 nights planned Las Vegas so there's only so much we can do. There's no way I'm getting in a helicopter to see the Grand Canyon so we will drive there and back in 1 day if we decide to go there, we may just decide to leave it for next time. Sy is really into Sci-Fi so he would love to go to Area 51 to the tacky cafe's. Again we may just play this by ear and see how much we get done around Las Vegas and see if we would rather spend the day there instead. We were planning on stopping at one of the cafe's for lunch on the drive from Yosemite but a we are now no longer going there, it changes things.
The plan as it stands now looks like;
6th May flight, stay somewhere near Fisherman Wharf for 4 nights. Visit Alcatraz, Golden gate bridge, Walt Disney Museum, Sea Lions at Pier 39.
10th fly to Las Vegas for 4 nights. Pick up car hire here. Would like to see a show or 2, Bellagio fountains, play a few slot machines, I'd love a gondola ride at the Venetian however it looks really pricey! Will see...
14th Drive to Disneyland where we stay at the Grand Californian for 5 nights (it will be from here we travel to Palm Springs if we do go). Probably get a 4 day Disney Ticket as I'm not sure I'm gonna take my scooter so will only be able to do a few hours at a time most probably.
19th Drive to Malibu where we stay 2 nights. Found a beautiful hotel on the beach that I've fallen in love with, be great to spend a day or 2 just chilling out by the beautiful sea. I've always wanted to visit Malibu.
21st drive to Hollywood and stay somewhere nearby for the last 3 nights, do Universal, Warner Bros tour, Walk of Fame and other touristy stuff!
24th Fly home.
Thus far, no hotels are booked. Well apart from the DVC - which we got at 7 months no problems. The 7 month mark fell while we were in Florida so that was weird booking the next holiday while on the current one. We have annual dues to pay in Feb first before we can book any hotels (though I might book the Malibu hotel come Christmas as we will probably get some monetary presents).
I think that's all to report for now, as I said before - I'm completely out of my depth so if anyone wants to part with some wisdom about any aspect of our trip I would be *most* grateful!
I'm half willing the trip to hurry up and get here and half willing it to be far away so we can save up!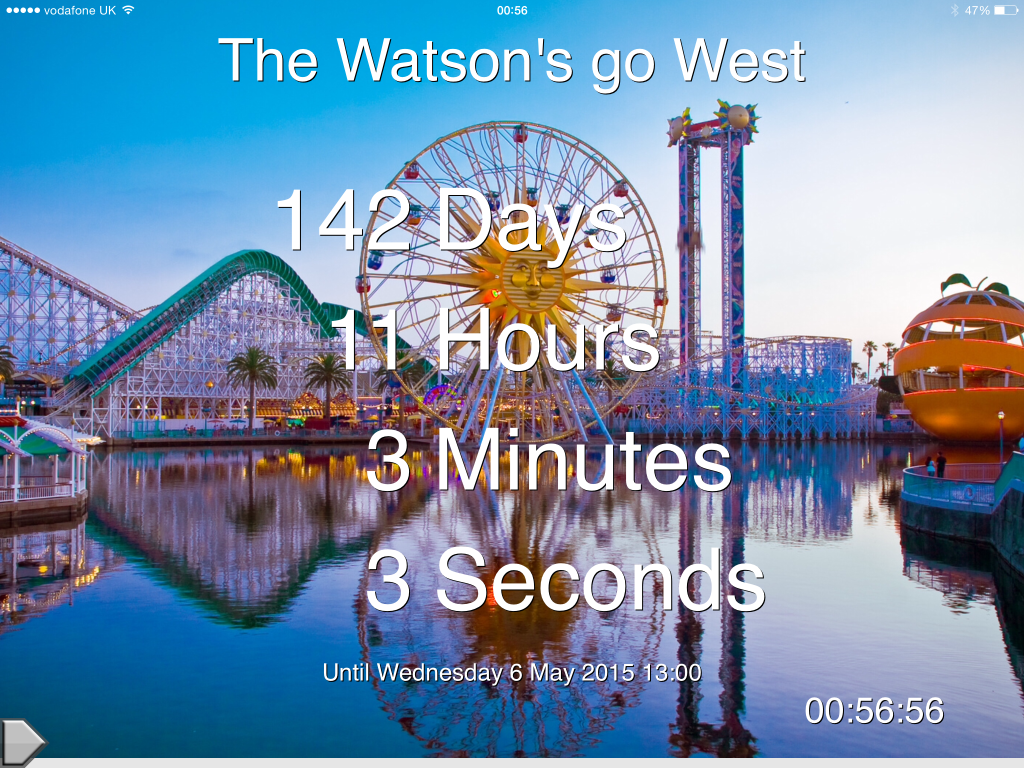 __________________
Our Very Merry 24 nighter Nov/Dec 15
Watson's go West May 15
The one with all the birthdays Oct 14 4 Big Birthdays and a Vow Renewal thrown in
The OMG trip June 14 30th Birthday present from the hubs
Girly trip March 14 A last min cheapy week
September 13 our first all DVC stay
TR May 2013 the last min bargain trip offsite
Oct 2012 TR with a cruise!big family trip featuring the beach club, AKL, the dream and a villa offsite
TR on a budget May - June 2011offsite condo
TR Sept - Oct 2010 big family trip in an offsite villa