Gahhhhhh! I just cannot hold it in anymore!! I just start my pre trip before I BURST!
It's been booked for months already but I've been trying to get my West Coast trip report finished but I just can't take it, I'm folding and giving in...
Who are we?
Well I think that's pretty obvious by now
Here we are looking rather fetching in one of our vow renewal pictures, I dunno about everyone else but I think Sy looks pretty good in bridal Minnie ears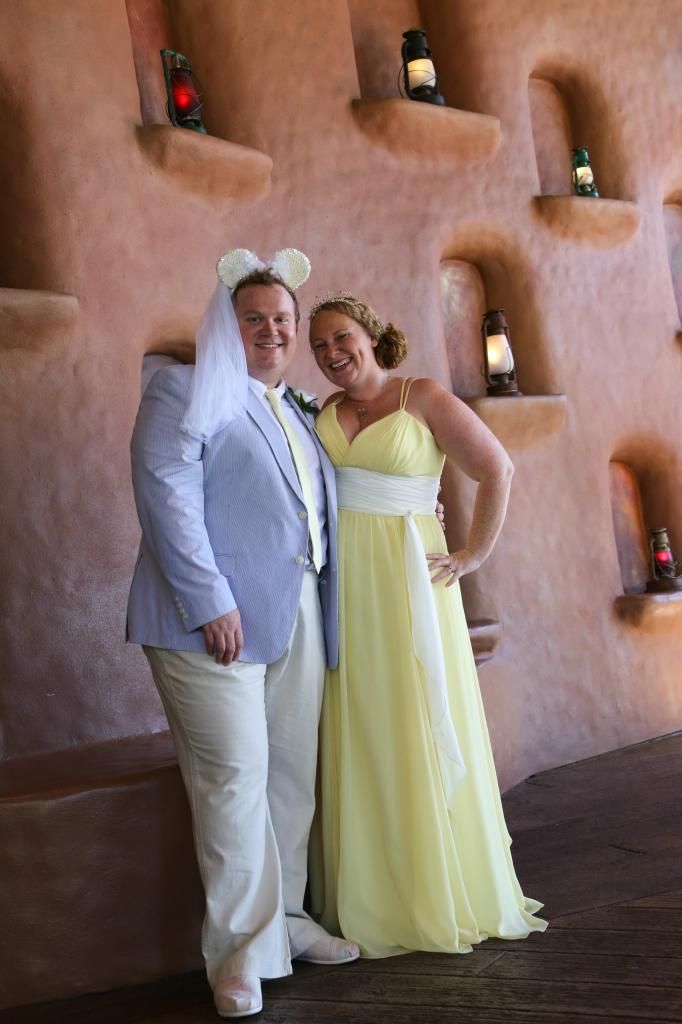 And one from a Halloween party, I love that we can look silly and not care!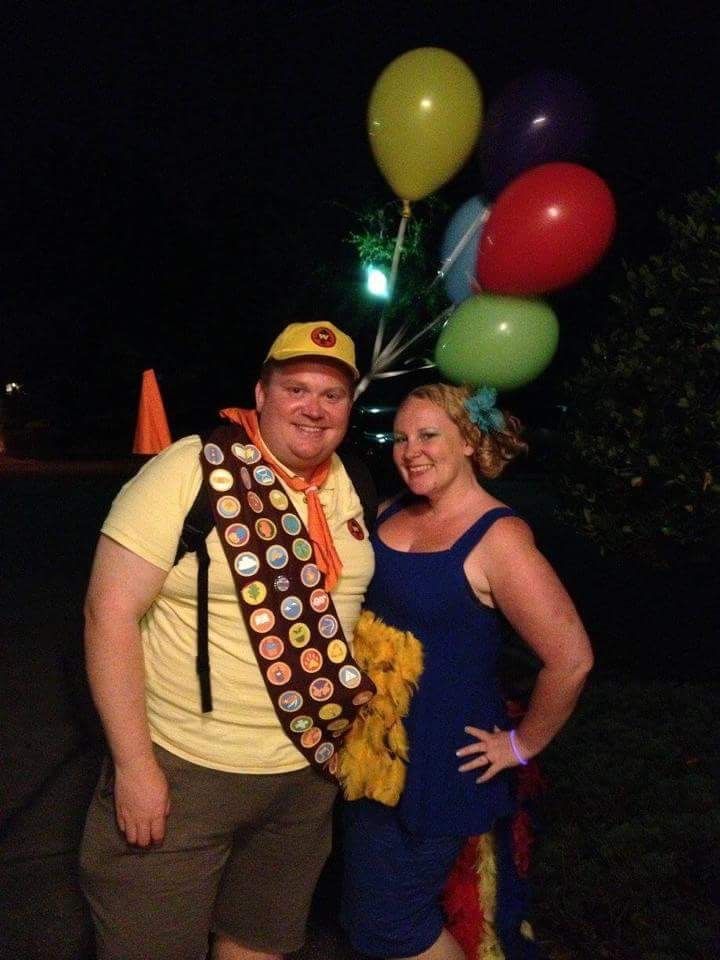 Ages at the time of our trip will be 31 and 33, Sy's the old one
A bit about us
I'll start with me, Robyn aka Princess - obviously I have *no* idea how I got that nickname... I might be a little fussy and particular about stuff but hey, I know what I like
people use the term high maintenance like its a bad thing... Pfft, I see no problem
I'm a huge princess fan as you might have guessed. I don't think I could choose a favourite but I grew up watching the Little Mermaid, it was the first film I saw in the cinema and I guess you could say I was hooked from then onwards, but rapunzel has a special place in my heart too, my weapon of choice is also a frying pan
teehee. You will see lots of food pictures from me, but please don't be too disappointed to see a lot of chicken on my plate, I'm a fussy eater but also ave a special diet due to tummy problems. Boohoo.
Next up, the yin to my yang, the dole to my whip, the Beast to my Beauty... yeah right..... My lovely hubby Sy (or Simon if he's in trouble). I often say he's so laid back he's almost horizontal (he'd have to be with me!), he's happy to go along with anything that I plan (yay!). In time gone by he never even knew what half the things were that I was booking but he's turned into an even bigger Disney geek than me!! Who'd have thought THAT was possible?! Luckily for me I know the stuff he would enjoy and he trusts me to book it all
so I still get to feed my inner control freak hehehe. Sy will eat pretty much any food - the total opposite to me that way. His food pictures are far more varied than mine
luckily I have him trained well so he knows not to take a bite till I'm done taking pictures.
I feel very lucky to say that this will be my 4th trip to Disney this year visiting 3 different Disney resorts! In March I went for a week to meet up with my lovely friend Jan in WDW. In May we headed to the West Coast and actually managed to be in Disneyland for the 24 hour 60th anniversary, in September I'm heading off to Disneyland Paris with another girlfriend for Dapper Day and then on November 19th Sy and I head to WDW for a whopping 24 nights! Ahhhh!
Wait, what?! 24 nights?! Yes you did read that right. I know it's a crazy amount right?! Sy has literally spent all of his holiday on our 2 trips. Due to a change in the renewal date of his annual leave he's actually got a few more days this year than usual so we have kinda gone all out
I blame the DVC and annual passes. Once we have the flights it doesn't really cost any more to stay longer, apart from a bit of spending money
we actually ended up with an extra day too as the flight was cheaper to leave here on the 19th instead of the 20th. The DVC was already booked from the 20th so we had planned to stay in a value for 1 night but instead we have booked 1 night in a studio in OKW.
On the 20th we then move over to AKL and check into CLUB LEVEL! Omgomgomgomgomgomgomgomgomg! This took a lot of hassle to get due to a lot of people 'walking' their reservations, it's a DVC term for people booking their reservation for before they want it and then shaving a few days off the beginning and adding to the end of their trip to make sure they get the dates they want and no one gets in there first and get the reservation before them. I ended up getting all the dates we wanted but each one was booked separately, I had to call up and get member services to link them all up under the one reservation. We are there 6 nights before checking out and into a value room. I know, it's gonna be harsh. Seems weird to book it this way round nice club level room to a small value room, but there was a method to my madness.... The first week we are there is thanksgiving and the parks are going to be rammed, so we aren't planning on much park time at all. Which is why it made sense to have the club level week when we plan on lots of hotel time. But I realise, it's still gonna be harsh lol. I mean, who's gonna turn down my bed and put the little chocolates on the pillows??? (First world problems hahaha)
We are there for 13 nights until we check into the VGF for our last 4 nights
yay!
Booking it all was a bit of a pita, cause the 11 month window fell over Christmas so Christmas Day I was logging on and trying to get our accommodation sorted. I sat for about an hour on Boxing Day on the phone to member services. But it will be worth it! (Boxing Day in the UK is a national holiday the day after Christmas Day where we eat shed loads more food and drink more... It's a bit like Christmas Day all over again lol).
We will have DVC annual passes (not yet bought) and already have tickets for MVMCP on the 8th December with Jan who is coming down for a couple of nights
As we are there for such a long time, we don't have a huge amount of ADR's booked. One every couple of days. We plan on eating in some offsite places and having some cheaper counter service meals.
I did manage to book us a candlelight processional package with Neil Patrick Harris
and I even nabbed one of the new Minnie's holiday dine at Hollywood and Vine for our last evening.
As I mentioned we are there for thanksgiving, well we have been invited to our friends Carrie and Mark's mums house for a tradition thanksgiving dinner
I'm SO excited for this!
We have kept the daily plans fairly fluid. We have some offsite and out of park plans for that first week, visiting blue springs state park, Clearwater and a boat trip to see the wild dolphins and a horse and carriage ride around port Orleans. Meet ups with friends. Plus a few resort days. I'll be making fast passes but as always I won't get my knickers in a twist about them, we never seem to have a problem changing them at short notice.
I'm really hoping we can afford another backstage tour, I fancy maybe the new one around Epcot's world showcase (destination discovered) but undiscovered futureworld is also floating my boat... Or maybe the Yuletide fantasy tour? We also plan to visit our first DVC merry mixer and get our DVC Christmas tree ornament! But least that one is free hehe.
Booked ADR's
Some of our old favourites...
Coral reef (candlelight processional)
The Wave for dinner
1900 park fare with Jan for brunch
Ohana for dinner
Yak and yeti lunch
Be our guest lunch
Sanaa for lunch
Garden view tea room for afternoon tea
Some new ones on the list for this year are;
Hollywood and Vine dinner with Minnie & friends (going with our friend Jackie who will be on a solo trip for a week)
Olivia's cafe for lunch before MVMCP (Sy wants some conch fritters!)
California grill (this may get dropped if the menu changes)
Narcoossees (another that may get dropped if the menu changes)
Raglan Road
We also plan to visit Big River Grille and Trader Sam's but no ADR's at either of those
To some people that might be way too few ADR's but as there is just the 2 of us we usually find we can get in somewhere at short notice if need be, plus we are trying to cut back a bit by eating offsite. Gotta pay for all the Disney trips somehow haha.
Some offsite eats that we are planning are;
Sweet tomatoes (I'm so hooked on that salad bar!)
Outback
Texas Roadhouse
Benihanna
Longhorn
Chili's (cheap and cheerful)
Hash house a go go
Texas de Brazil
Keke's breakfast
My French cafe for cake!
I've been hearing a lot about Dicks too so i think I might check out the menu there as well...
There were a few ADR's that involved a *lot* of Internet stalking
like obsessively, at least once every hour, sort of stalking
only my Disney friends would understand the levels of stalking involved and not judge me... those ADR's would be Minnie's holiday dine and the candlelight processional package. But the stalking paid off and I was 1 of the first few who managed to book both of them. I actually booked my friends Minnie meal as she was busy working so couldn't hit refresh on repeat for 2 hours solid
hehehe. I fear now I might have to start it all over again for the skipper's cantina that's due to open towards the end of the year...
__________________
Our Very Merry 24 nighter Nov/Dec 15
Watson's go West May 15
The one with all the birthdays Oct 14 4 Big Birthdays and a Vow Renewal thrown in
The OMG trip June 14 30th Birthday present from the hubs
Girly trip March 14 A last min cheapy week
September 13 our first all DVC stay
TR May 2013 the last min bargain trip offsite
Oct 2012 TR with a cruise!big family trip featuring the beach club, AKL, the dream and a villa offsite
TR on a budget May - June 2011offsite condo
TR Sept - Oct 2010 big family trip in an offsite villa