The One With All The Birthdays
Hello! Welcome to my trip report. If you've read one of my reports before I think you probably know what you're getting yourself into by now - a picture heavy report featuring lots of yummy food with hopefully a few laughs along the way. If you haven't read a report of mine before, where have you been?! Only kidding, welcome to the mad house! I hope you enjoy my ramblings.
But first, a quick catch-up of who we are and what we planned.
I'm Robyn and my husband is Sy (or Simon if he's being told off!). I celebrated a big birthday this year, along with my parents and my mother in law who all celebrated the same big birthday as one another. And what better way to celebrate? Well a trip to Disney of course! Sy and I were also celebrating our 5th anniversary so we decided to renew our wedding vows while we were in Florida, after all - our parents would be there, seemed like perfect timing
We also always wanted to visit Key West so we decided to fly into Miami, stay one night after the flight and then head down to Key West for 3 nights, then 1 night in Ft Lauderdale on the drive up to Orlando where we would spend the rest of the trip.
Here we are on the trip, from left to right there's my parents, Bill & Sian, then me and Sy and then Sy's parents Anne & Cliff.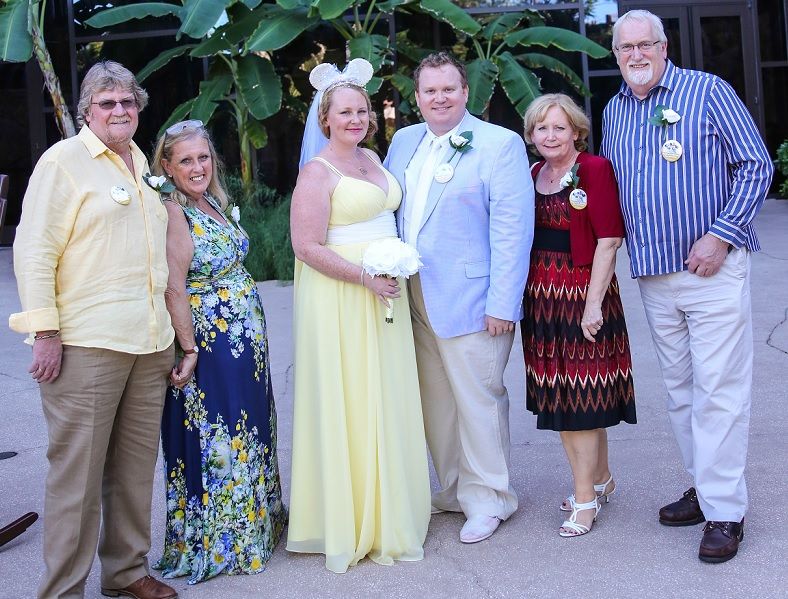 There we are, caught up now? Good! I'll stop waffling now and get on with the show...
I'm afraid this trip doesn't have the best of starts, if you haven't read my highs and lows unfortunately our cat had to be put to sleep the day we left for the airport hotel. He was our baby so as you can imagine we were in bits. So the first day I will warn you now, isn't the happiest of reads. I've been in tears writing it but as it happened and was part of the trip I have included it. Feel free to skip it if you don't want to be on the train to sadville - I wont take offence! It gets happier from then on I promise. But cause of that, hardly any pictures were taken however this is the only day when the pictures were few and far between.
So here we go...
__________________
Our Very Merry 24 nighter Nov/Dec 15
Watson's go West May 15
The one with all the birthdays Oct 14 4 Big Birthdays and a Vow Renewal thrown in
The OMG trip June 14 30th Birthday present from the hubs
Girly trip March 14 A last min cheapy week
September 13 our first all DVC stay
TR May 2013 the last min bargain trip offsite
Oct 2012 TR with a cruise!big family trip featuring the beach club, AKL, the dream and a villa offsite
TR on a budget May - June 2011offsite condo
TR Sept - Oct 2010 big family trip in an offsite villa